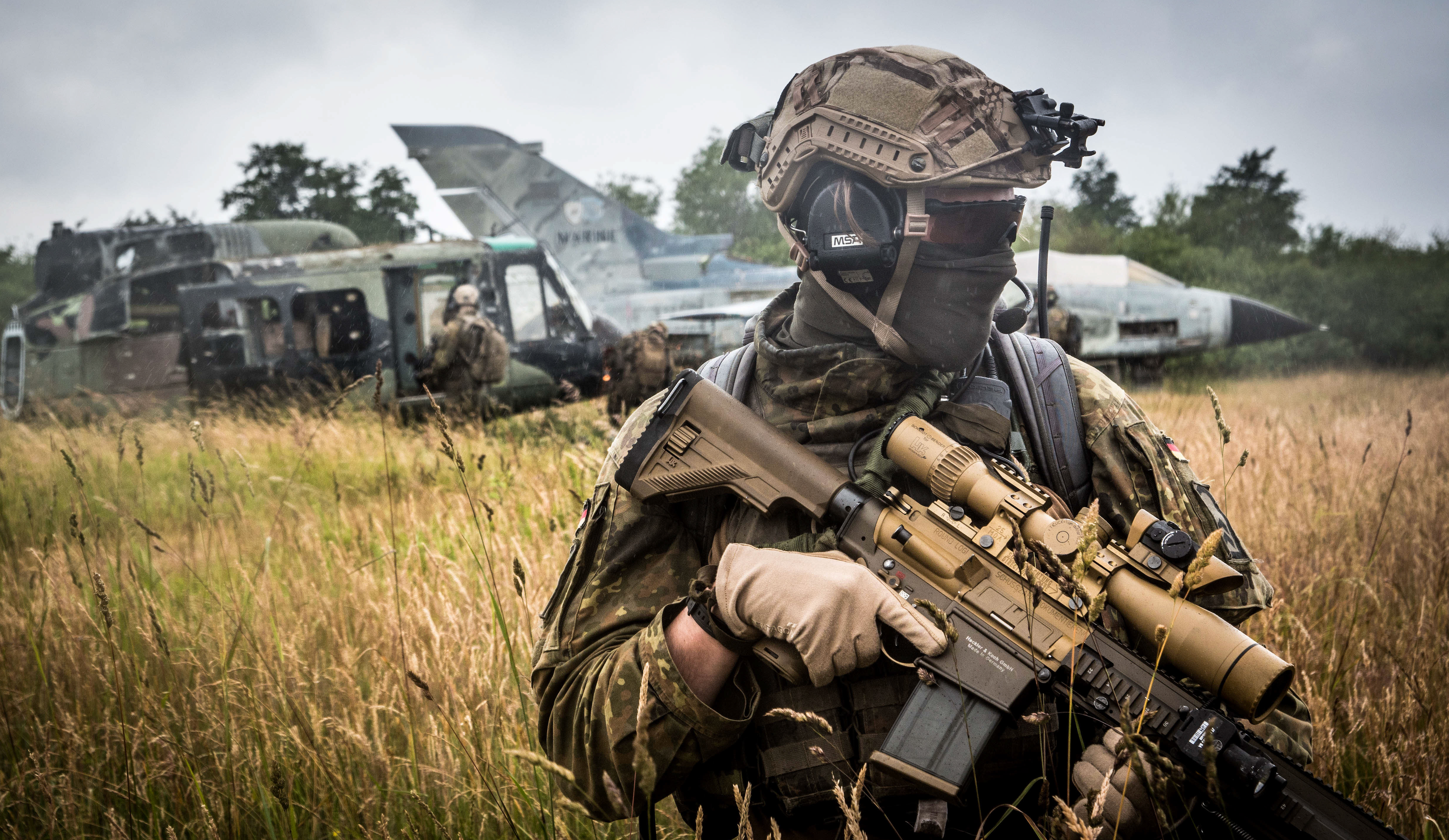 Berlin to soften spending rules for 100 billion euro military fund, sources say
PHOTO CAPTION: Representational photo — German troops from a special operations unit execute a simulated personnel recovery mission in northern Germany during Unified Vision 18. (NATO photo via Flickr)
BERLIN (Reuters) -The German government plans to water down the rules on how a 100 billion euro ($109 billion) special fund originally set up to finance major military purchases can be spent, several sources told Reuters on Monday.

Berlin aims to change the law so that the money can also be used to pay for maintenance, which is seen as a running cost, and infrastructure as long as it is connected with military purchases, the sources said, echoing a report by the FAZ newspaper.

Such a change may represent a setback for efforts to bring the German military back up to standard after decades of neglect as money goes on running costs rather than on major modernization projects.


The fund was established in the wake of Russia's invasion of Ukraine to finance major defence projects such as the purchase of new fighter jets to bring the military back up to standard after decades of neglect.

A spokesperson for the defence ministry neither confirmed nor denied that the government planned to change the rules.

"We have always said that the military's demand exceeds the funds allocated in the government's budget draft for next year," she told reporters. "We have always said that we will draw more heavily on the special fund."

So far, deals accounting for 33 billion of the 100 billion euros in the fund have been struck, she said, adding that the ministry hoped to have two-thirds of the fund under contract by the end of the year.


Germany's cabinet approved the first draft of its 2024 budget at the start of July. Europe's biggest economic power aims to curb spending, which has surged in response to COVID-19 and the Ukraine war.

The defence ministry is the only department not facing cuts as Germany plans in 2024 to comply with the NATO target of ringfencing 2% of its gross domestic product for military spending.

However, a government source told Reuters last week that Berlin has stepped back from a plan to legally commit itself to meeting the target on an annual basis, meaning Germany will stick to its current pledge of meeting it on average over a five-year period.

This wording is softer than Chancellor Olaf Scholz's original pledge in a speech on Feb 27. 2022 in which he announced a "Zeitenwende", or turning point, three days after Russia's invasion of Ukraine.

"From now on, we will invest more than 2% of GDP into our defence year after year," Scholz said at the time.

($1 = 0.9174 euros)

(Reporting by Sabine Siebold and Andreas Rinke; Editing by Friederike Heine and Hugh Lawson)
MORE FROM THE
OAF NATION NEWSROOM