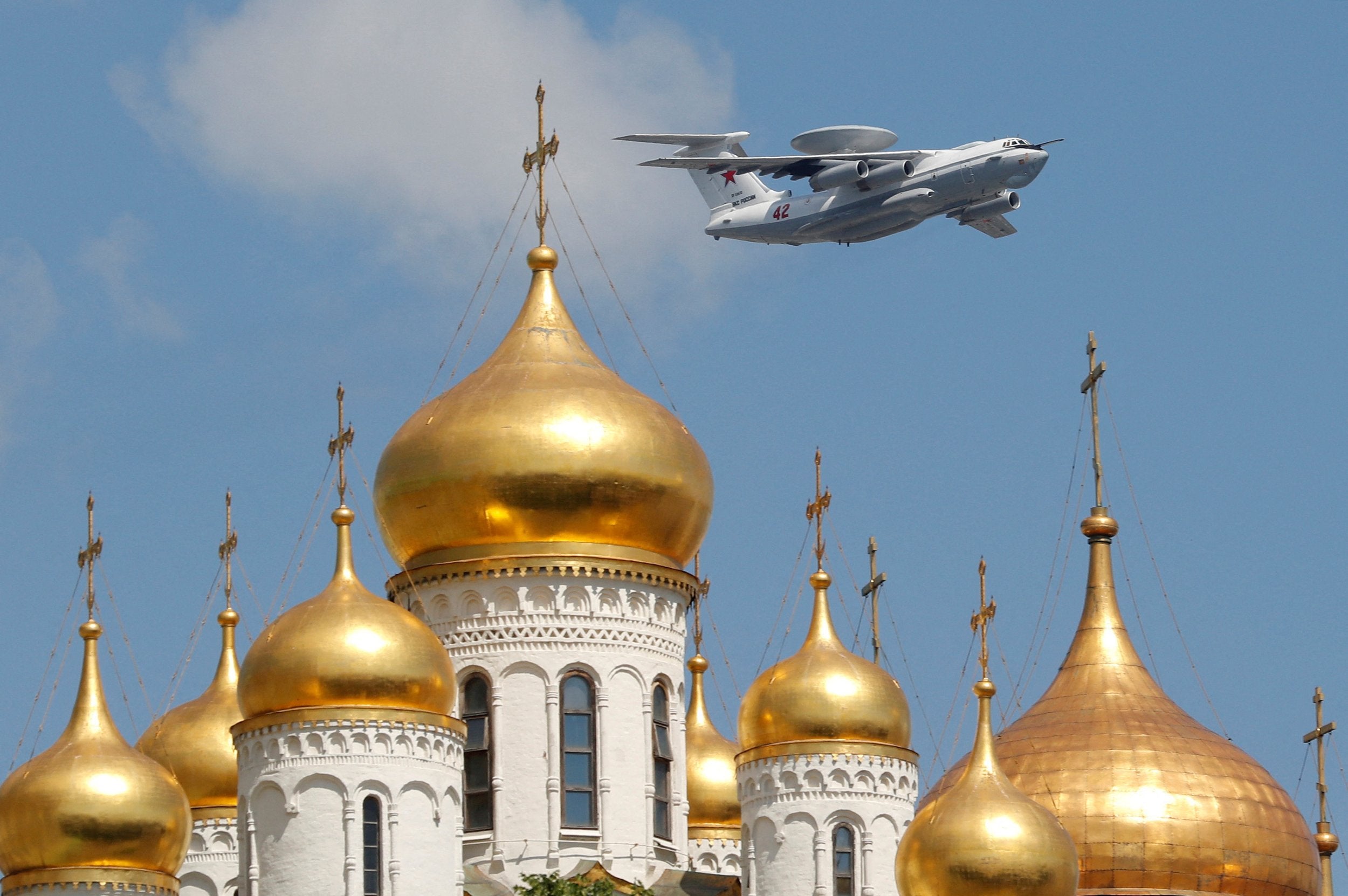 Belarus partisans say they blew up a Russian military aircraft near Minsk
(Reuters) - Belarusian anti-government activists said on Sunday they had blown up a sophisticated Russian military surveillance aircraft in a drone attack at an airfield near the Belarusian capital Minsk, a claim that neither Russia nor Belarus confirmed.
The plane - a Beriev A-50 aircraft - has the NATO reporting name of Mainstay and is an airborne early warning aircraft with command and control capabilities and the ability to track up to 60 targets at a time.
Belarus, a staunch Russian ally, has allowed Moscow to use its territory to launch attacks on Ukraine, though so far holding off from getting directly involved in the war.
"They were drones (that carried out the attack). The participants of the operation are Belarusians," Aliaksandr Azarov, leader of Belarusian anti-government organization BYPOL, was quoted as saying on the organisation's Telegram messaging app and on the Poland-based Belsat news channel.
Azarov did not provide immediate evidence to back his assertion.
BYPOL, which includes former law enforcement officers who support opposition politicians, has been branded a terrorist organization by Minsk. Belsat is a Polish broadcaster focused on Belarusian news that Minsk has also branded extremist.
The Kremlin declined to comment on Azarov's claim, saying that the alleged incident had occurred on the territory of Belarus which it said had denied it. There was no immediate response to comment requests from the Belarusian or Russian defence ministries.
Franak Viacorka, an adviser to Belarusian opposition leader Sviatlana Tsikhanouskaya, said in a post on Twitter that two Belarusian "partisans" had been involved in the attack on the Machulishchy air base outside Minsk.
He said the drones had damaged the front and central parts of the A-50 plane, including the aircraft's radar antenna and avionics. The two people who had carried out the attack were now safely outside Belarus, he said.
"I am proud of all Belarusians who continue to resist the Russian hybrid occupation of Belarus & fight for the freedom of Ukraine," Tsikhanouskaya, the opposition leader, wrote on Twitter, with a link to her adviser Viacorka's report.
There have been several acts of sabotage in Belarus and in Russian regions bordering Ukraine, especially on the railway system, since the start of Russia's invasion of Ukraine.
The Belarusian human rights group Vyasna said on Monday that a woman was detained in Machulishchy, where the air base is located. It said it was unaware of the reason for the detention.
Detentions in Belarus are common, especially after President Alexander Lukashenko crushed mass protests against him in 2020 and jailed all leading opposition figures or forced them to flee abroad.
(Reporting by Lidia Kelly in Melbourne; Editing by Robert Birsel, Andrew Osborn and Peter Graff)
MORE FROM THE
OAF NATION NEWSROOM