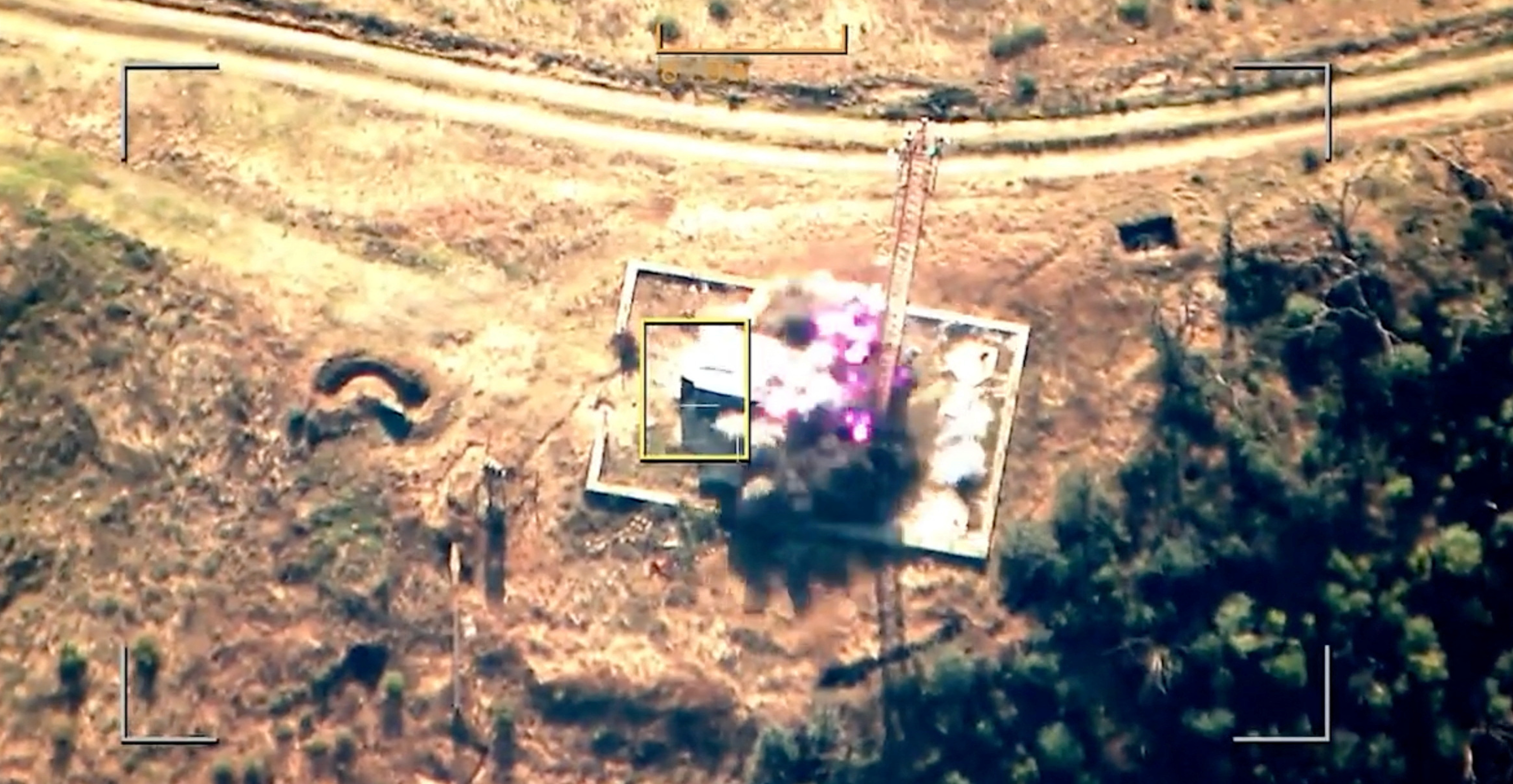 Azerbaijan halts Karabakh military action after Armenians surrender
PHOTO CAPTION: A still image from video, published by Azerbaijan's Ministry of Defence, shows what it said to be an attack and neutralization of the military radio-technical node of the units of the armed forces of Armenia in the region of Nagorno-Karabakh, in this image taken from video published September 19, 2023. Azerbaijan's Ministry of Defence/Handout via REUTERS
By Felix Light and Andrew Osborn

YEREVAN (Reuters) -Azerbaijan said on Wednesday it had halted military action in its breakaway region of Nagorno-Karabakh after Armenian separatist forces there surrendered and agreed to a ceasefire whose terms signalled the area would return to Baku's control.

Under the agreement, confirmed by both sides and effective from 1 p.m. (0900 GMT) on Wednesday, separatist forces will disband and disarm and talks on the future of the region and the ethnic Armenians who live there will start on Thursday.

Karabakh, a mountainous area in the volatile wider South Caucasus region, is internationally recognised as Azerbaijani territory, but part of it has been run by separatist Armenian authorities who say the area is their ancestral homeland.

Fearful of what the future might hold, crowds of ethnic Armenians made their way to the airport in Stepanakert, the capital of Karabakh which is known as Khankendi by Azerbaijan. Others took shelter with Russian peacekeepers.

Azerbaijan, which sent troops backed by artillery strikes into Karabakh on Tuesday in an attempt to bring the breakaway region to heel, has said it planned to integrate the area's 120,000 ethnic Armenians and that their rights would be protected under the constitution.

But some Armenians - given the region has been at the centre of two wars since the 1991 Soviet fall - are sceptical and neighbouring Armenia has accused Azerbaijan of trying to ethnically cleanse the territory, something Baku denies.

"They are basically saying to us that we need to leave, not stay here, or accept that this is a part of Azerbaijan - this is basically a typical ethnical cleansing operation," Ruben Vardanyan, a former top official in Karabakh's ethnic Armenian administration, told Reuters.

He said that close to 100 people had been killed and hundreds more injured in the fighting. Reuters could not verify that.


ARMENIAN PM UNDER PRESSURE

The outcome, a military victory for Turkey-backed Azerbaijan whose forces far outnumbered the separatists, could cause political turmoil in neighbouring Armenia, where some political forces are angry that Yerevan was unable to do more to protect the Karabakh Armenians.

Armenian Prime Minister Nikol Pashinyan was already facing calls on Wednesday from some opponents to resign.

Some Armenians are also furious that Russia, which has peacekeepers on the ground and helped broker an earlier ceasefire deal in 2020 following a 44-day war, was unable to stop Azerbaijan.

The Kremlin rejected that criticism on Wednesday and President Vladimir Putin was quoted as saying that Russian peacekeepers would protect Karabakh's civilian population.

Separatists running the self-styled "Republic of Artsakh" said they had been forced to agree to Azerbaijan's terms - relayed by Russian peacekeepers - after Baku's army broke through their lines and seized a number of strategic locations while the world did nothing.

"The authorities of the Republic of Artsakh accept the proposal from the command of the Russian peacekeeping contingent to cease fire," they said in a statement.

Azerbaijan had said it could no longer tolerate a situation it regarded as a threat to its security and territorial sovereignty.


HANDOVER OF WEAPONS

The formal surrender of separatist fighters and the handover of their weapons and hardware was expected later on Wednesday.

Armenia, which says it has no military forces in Karabakh despite Azerbaijani assertions, did not intervene militarily.

It was unclear how many ethnic Armenians would opt to stay in Karabakh.

Russia's defence ministry, which has thousands of peacekeepers on the ground, broadcast footage of Karabakh Armenians being given temporary shelter at a makeshift Russian military facility.

Armenian Deputy Foreign Minister Paruyr Hovhannissyan told Reuters that Karabakh Armenians could "in an ideal world" live under Azerbaijani rule but that historical experience made it hard to imagine.

Azerbaijan's military operation had faced sharp criticism from the United States and some European countries.

They said the Karabakh problem should have been solved through talks and that Baku's actions were worsening an already dire humanitarian situation on the ground following a nine-month blockade of the area by Azerbaijan.

(Writing by Andrew Osborn in London and Guy Faulconbridge in Moscow; Editing by Kevin Liffey, Jon Boyle and Alex Richardson)
MORE FROM THE
OAF NATION NEWSROOM