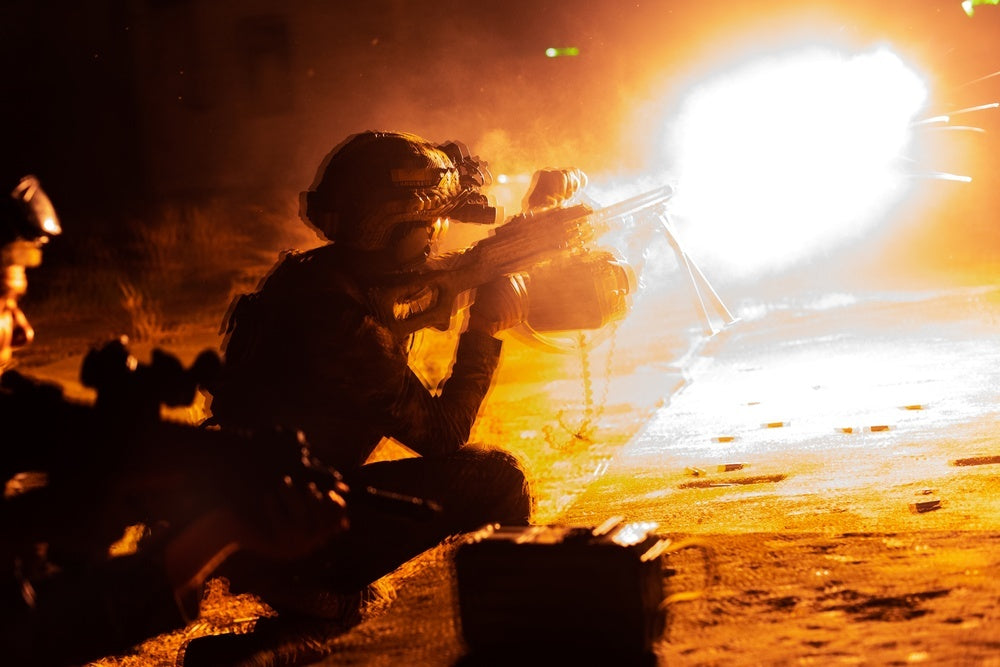 Analysis: Belgorod incursion may stretch Russia's defenses
Illustrative photo — A Ukrainian special operations forces (SOF) soldier provides covering fire for a joint raid exercise between Ukrainian Special Forces and U.S. Navy SEALs during exercise Sea Breeze 21 on Pervomaysʹkyy Island, Ukraine, July 2, 2021 (U.S. Army Photo by Sgt. Patrik Orcutt via U.S. Defense Visual Information Distribution Service)
LONDON/KYIV (Reuters) -A two-day incursion from Ukraine into Russia's western borderlands could force the Kremlin to divert troops from front lines as Kyiv prepares a major counteroffensive, and deal Moscow a psychological blow, according to military analysts.
Though Kyiv has denied any role, the biggest cross-border raid from Ukraine since Russia invaded 15 months ago was almost certainly coordinated with Ukraine's armed forces as it prepares to attempt to recapture territory, the experts added.
"The Ukrainians are trying to pull the Russians in different directions to open up gaps. The Russians are forced to send reinforcements," said Neil Melvin, an analyst at the Royal United Services Institute (RUSI).
Ukraine says it plans to conduct a major counteroffensive to seize back occupied territory, but Russia has built sprawling fortifications in its neighbour's east and south in readiness.
The incursion took place far from the epicentre of fighting in Ukraine's eastern Donbas region and around 100 miles (160 km) from the front lines in the northern Kharkiv region.
"They'll have to respond to this and put troops there and then have lots of troops all along the border area, even though that may not be the way the Ukrainians are coming," Melvin said.
Russia's military said on Tuesday it had routed militants who attacked its western Belgorod region with armoured vehicles the previous day, killing more than 70 "Ukrainian nationalists" and pushing the remainder back into Ukraine.
Kyiv has said the attack was carried out by Russian citizens, casting it as homegrown, internal Russian strife. Two groups operating in Ukraine - the Russian Volunteer Corps (RVC) and Freedom of Russia Legion - have claimed responsibility.
The groups were set up during Russia's full-scale invasion and attracted Russian volunteer fighters wanting to fight against their own country alongside Ukraine and topple President Vladimir Putin.
Mark Galeotti, head of the London-based Mayak Intelligence consultancy and author of several books on the Russian military, said the two groups comprised anti-Kremlin Russians ranging from liberals and anarchists to neo-Nazis.
"They're hoping that in some small way they can contribute to the downfall of the Putin regime. But at the same time, we have to realise that these are not independent forces ... They are controlled by Ukrainian military intelligence," he said.
Ukrainian presidential aide Mykhailo Podolyak repeated Kyiv's position that it had nothing to do with the operation.
The United States says it does not "enable or encourage" Ukrainian attacks on Russian territory, but that it is up to Kyiv to decide how it conducts military operations.
Several similar incursions into Russia have occurred in recent months, and although this week's was the largest known so far, it is still tiny when compared to frontline battles.
ECHOES OF 2014?
Alexei Baranovsky, a spokesperson for the political wing of the Freedom of Russia Legion, told Reuters in Kyiv that he could not disclose the number of troops involved in the operation, but that the legion had four battalions in total.
Baranovsky denied there had been heavy losses, and he dismissed Russian reports of large casualties as disinformation.
He said the unit was part of Ukraine's International Legion and therefore part of its armed forces, but denied the incursion was coordinated with Ukrainian authorities.
"These are the first steps in the main objective of overthrowing Putin's regime through armed force. There are no other alternatives," he said.
Galeotti said the incursion looked like a Ukrainian battlefield "shaping" operation ahead of Kyiv's planned counteroffensive.
"... This is really a chance to do two things. One is to rattle the Russians, make them worried about the possibility of risings amongst their own people. But secondly, force the Russians to disperse their troops," he said.
Melvin noted that the operation also served to boost morale in Ukraine.
Kyiv officials have mimicked the Kremlin's rhetoric surrounding Russia's annexation of Crimea in 2014 when it initially denied the troops involved were Russian.
Podolyak blamed the Belgorod incursion on "underground guerrilla groups" comprising Russian citizens and said: "As you know, tanks are sold at any Russian military store."
The remark appeared to echo Putin's response in 2014 when asked about the presence of men wearing Russian military uniforms without insignia in Crimea: "You can go to a store and buy any kind of uniform."
On social media, Ukrainians made reference to what they called the "Belgorod People's Republic" - a nod to events in eastern Ukraine in 2014, when Russia-backed militias declared "people's republics" in Ukraine's Donetsk and Luhansk regions.
Ukrainians also circulated a video of President Volodymyr Zelenskiy delivering his famous "I am here" video address from Kyiv at the beginning of the invasion in February 2022. But instead of the presidential office in Kyiv, the background showed the welcome sign to the city of Belgorod.
(Additional reporting by Max Hunder in Kyiv and Agnieszka Pikulicka-Wilczewska in Warsaw; editing by Mike Collett-White and Mark Heinrich)
MORE FROM THE
OAF NATION NEWSROOM