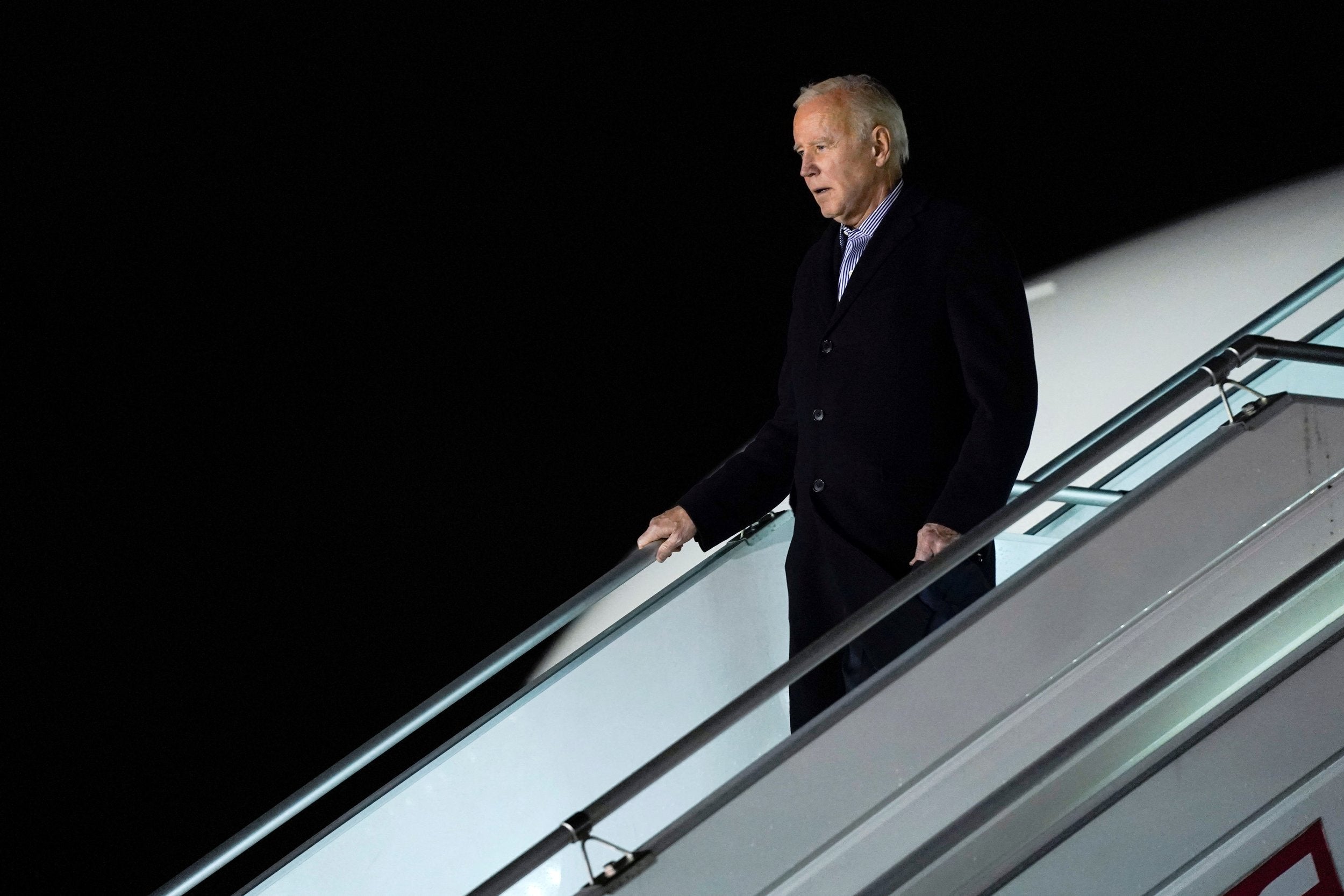 After Kyiv visit, Biden rallies NATO allies in Poland
WARSAW (Reuters) -Fresh from an unannounced visit to Ukraine, President Joe Biden rallied NATO allies in Poland on Tuesday, proclaiming "unwavering" support for Kyiv and a commitment to bolstering the alliance's eastern flank.
On a trip clearly timed to overshadow a major speech by Russian President Vladimir Putin before the anniversary of the invasion, Biden met Polish President Andrzej Duda, one of the most vocal proponents of stronger Western support for Ukraine.
The U.S. president was due to give a keynote speech of his own later on Tuesday, in which he would rally support for Ukraine as the war enters its second year with no end in sight.
He opened his trip on Monday with an unannounced trip to Ukraine, billed as the first time a U.S. president has made such a journey to a country at war without U.S. troops on the ground controlling the area.
"As I told President Zelenskiy when we spoke in Kyiv yesterday, I can probably say that our support for Ukraine remains unwavering," Biden told his Polish counterpart.
Duda said Biden's visit showed U.S. commitment to maintaining security in Europe, and described Biden's stop in Kyiv as an "incredible gesture".
Poland has NATO's longest border with Ukraine and has been the main route in for weapons and out for refugees. Duda's foreign policy adviser said the men would discuss Poland's security, and scaling up NATO resources there.
"It is no secret that we will talk about increasing the presence, also in terms of infrastructure, of NATO," Marcin Przydacz told private broadcaster TVN 24.
The visit was welcomed by ordinary Poles and by the 2.5 million Ukrainians, mostly women and children refugees from the conflict, now living in the country. Many called for bolder Western support for Kyiv, including the supply of fighter jets, which Biden has so far held back from offering.
"We hope that they (the U.S.) will increase shipments of arms, that things at the front will improve and that we will win," said Alina Kiiko, 32, a Ukrainian in central Warsaw.
On the Roman Dmowski roundabout in the centre of the city, a giant advertising screen ran the slogan: "Biden, give F-16 to Ukraine" in English, referring to U.S. fighter jets.
Demonstrators displayed a banner with the same slogan outside the hotel where Biden stayed overnight as he left for his meeting with Duda in the Polish presidential palace where he was met by a military honour guard.
Warsaw resident Marian Switala, 70, said he hoped "that this conflict will somehow be resolved and there will be peace in Ukraine and the surrounding area".
EASTERN FLANK
Before returning to Washington on Wednesday, Biden will meet leaders of the Bucharest Nine, the countries on NATO's eastern flank, to reaffirm support for their security.
All joined the Western military alliance after being dominated by Moscow during the Cold War, and most are now among the strongest supporters of military aid to Ukraine.
While Biden was in Kyiv on Monday, the State Department announced more support for Ukraine comprising $450 million of artillery ammunition, anti-armour systems and air defence radars, and $10 million for energy infrastructure.
Lithuanian President Gitanas Nauseda's message to Biden will be that it wants "greater involvement of the U.S. in Europe, NATO's eastern flank and, of course, more aid to Ukraine," his chief foreign policy adviser told Lithuanian radio on Tuesday.
"Lithuania and other like-minded countries have several requests, which concern air defence, forward defence presence, air defence systems, and greater investments in the defence industry," Asta Skaisgiryte said.
Later this week, Washington will announce additional sanctions against individuals and companies that are "trying to evade sanctions and backfill Russia's war machine," a White House spokesperson said.
Putin, in his long-awaited address, defended his decision to go to war and vowed to prevail. He also brandished Russia's nuclear arsenal, announcing the suspension of a landmark arms control treaty, declaring new strategic systems had been put on combat duty and warning that Moscow could resume nuclear tests.
A year ago, Biden warned sceptical allies that a massive buildup of Russian troops along Ukraine's borders was the precursor to war. At the time, even some inside his own government questioned Ukraine's ability to withstand an invasion by a much larger foe.
But Ukraine's forces held Kyiv and drove Russia back out of some of the territory it seized in the early weeks of the war, helped by Western weapons, ammunition and equipment.
The United States has sent more than $24 billion in security assistance, but U.S. officials say the war may continue for many months or even years.
(Reporting by Steve Holland in Washington, Alan Charlish, Pawel Florkiewicz, Anna Koper and Andrius Sytas in Warsaw; writing by Steve Holland, Niklas Pollard and Gwladys Fouche; editing by Ross Colvin, Sandra Maler, Kevin Liffey, Peter Graff)
MORE FROM THE
OAF NATION NEWSROOM