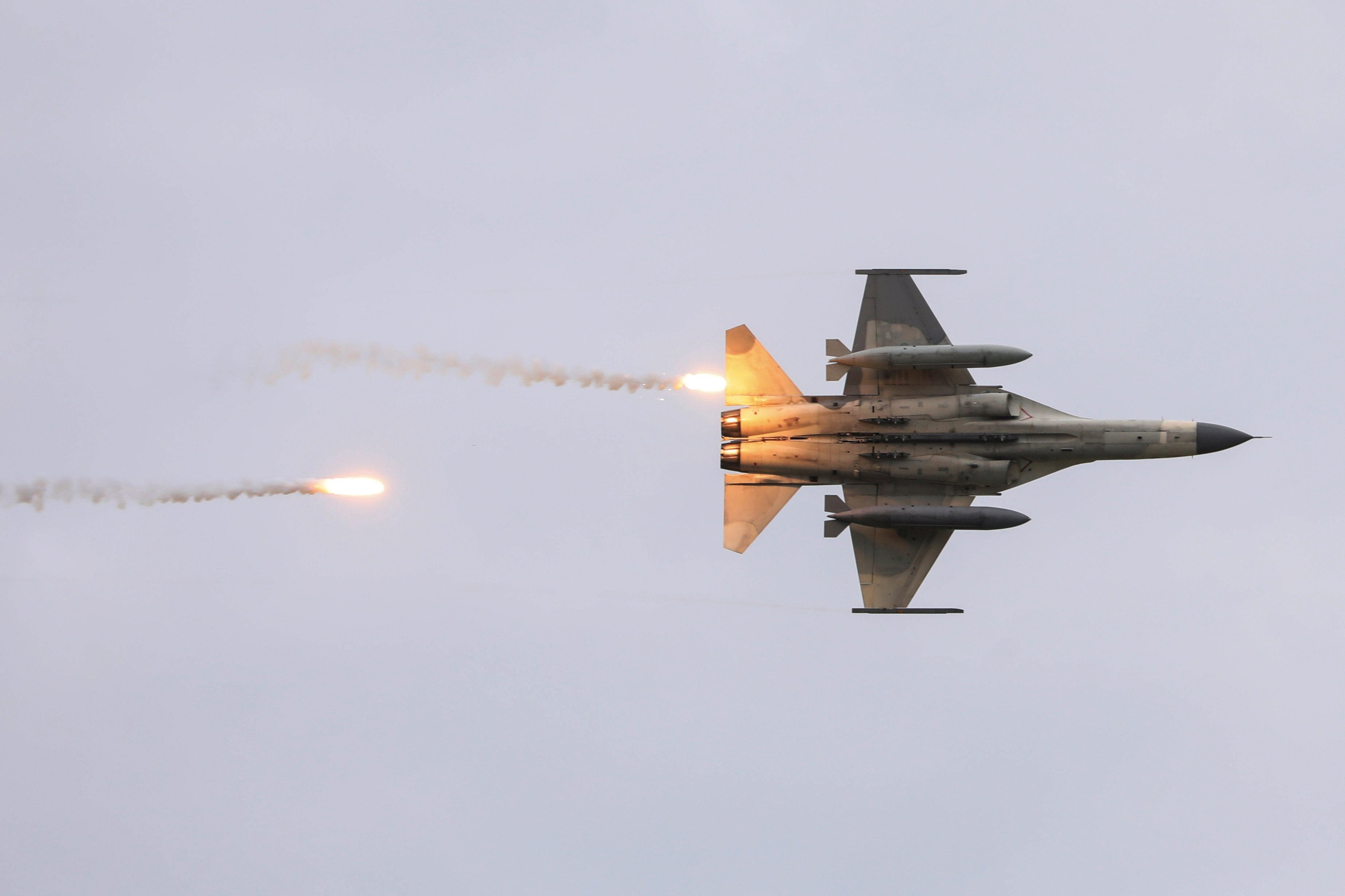 Taiwan drills to focus on piercing blockade, get "Five Eyes" intelligence link
Taiwanese domestically built Indigenous Defense Fighters (IDF) take part in the live-fire, anti-landing Han Kuang military exercise, which simulates an enemy invasion, in Taichung, Taiwan July 16, 2020. REUTERS/Ann Wang
TAIPEI (Reuters) -
Taiwan

's annual military

 

drills

 

this year take into account China's recent war games and

 

focus

 

on breaking a

 

blockade, the defence ministry said on Wednesday, as a senior security official said

 

Taiwan

 

now had a "Five Eyes"

 

intelligence

 

link

.
China, which views democratically governed

 

Taiwan

 

as its own territory, has ramped up military pressure in the past three years to try to assert its sovereignty claim.
China practised precision strikes and

 

blockades in

 

drills

 

around the island this month staged after

 

Taiwan

 

President Tsai Ing-wen met U.S. House of Representatives Speaker Kevin McCarthy in Los Angeles.
Taiwan

's defence ministry said the "Han Kuang" exercises would be split into two parts - tabletop

 

drills

 

from May 15 to 19, and forces mobilised from July 24 to 28 in live-fire exercises.
The

 

focus

 

will be on combat forces "preservation" and "maritime interception", it said.
That will include using civilian airports and dispersing air assets, as well as disguising forces on the ground, the ministry added.
The naval element will integrate sea, air and land forces to attack enemy forces and amphibious assault ships, and to protect sea lanes and counter

 

blockade

 

efforts, it said.
"Of course our

 

drills

 

are based on the threat of the communists invading

 

Taiwan

 

and its recent military exercises around

 

Taiwan," the ministry's combat planning chief, General Lin Wen-huang, told a news conference.
Beijing has never renounced using force to bring the island under its control.

 

Taiwan

 

rejects Beijing's sovereignty claims and has vowed to defend its freedom and democracy.
In view of the rising threat level from China,

 

Taiwan

 

has sought closer security co-operation with the United States and its allies.
Taking lawmaker questions in parliament on Wednesday, Tsai Ming-yen, the director-general of

 

Taiwan's National Security Bureau said it had upgraded its computers to exchange real-time

 

intelligence

 

with the "Five Eyes" alliance of the United States, Canada, Britain, Australia and New Zealand.
"We can connect with the

 

'Five

 

Eyes'

 

alliance through a confidential system," he said, without giving details.
'STRONG NAVY'
Last week China's navy put out a slickly produced video to celebrate its 74th anniversary, showing the Shandong aircraft carrier and new amphibious assault ships simulating an attack and landing somewhere in "Western Pacific waters", suggesting it was planning a

 

Taiwan

 

contingency.
"It takes a strong navy to safeguard the country's sovereignty and territorial integrity," Zhu Fenglian, spokesperson for China's

 

Taiwan

 

Affairs Office, said on Wednesday, when asked what message the video sent.
"The Democratic Progressive Party authorities and

 

Taiwan

 

independence separatist forces are trying to collude with external forces, but there's no chance of splitting the country," she said, referring to

 

Taiwan's ruling party.
Taiwan

 

is trying to boost its defensive capabilities by investing in new equipment such as long-range missiles and drones and by extending compulsory military service to one year.
Although

 

Taiwan's military is generally well-trained and well-equipped with mostly U.S.-made hardware, China has huge numerical superiority and is adding advanced equipment such as stealth fighters.
Taiwan

's domestic security chief Tsai told reporters China was using new "cognitive warfare" methods, such as artificial

 

intelligence

 

applications, to try to sway public opinion and spread fake news ahead of January's presidential elections.
"We need to continue paying attention to what they are up to during the election process," he said.
(Reporting by Ben Blanchard and Roger Tung; Editing by Gerry Doyle and Clarence Fernandez)
MORE FROM THE
OAF NATION NEWSROOM