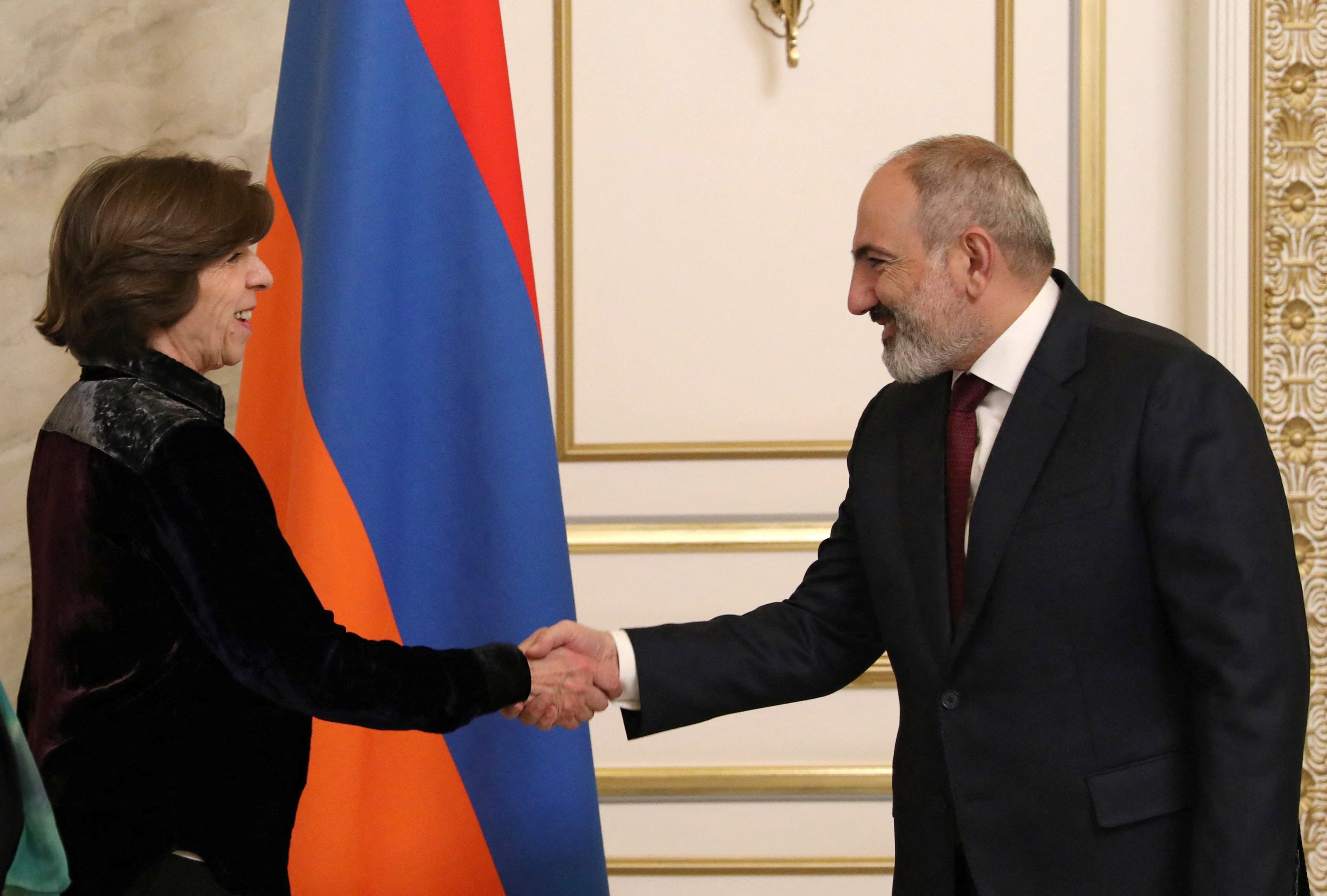 Armenia and Azerbaijan to hold peace settlement talks soon, TASS news reports
Armenian Prime Minister Nikol Pashinyan shakes hands with French Foreign Minister Catherine Colonna during a meeting in Yerevan, Armenia April 27, 2023. Stepan Poghosyan/Photolure via REUTERS
(Reuters) - Armenia and Azerbaijan will hold talks in the near future on a peace deal to try to settle their long-running differences, Russia's TASS news agency quoted the secretary of Armenia's Security Council as saying.
The official, Armen Grigoryan, did not say when, where and at what level the talks would happen.
TASS also reported that Armenia's defence minister had discussed the situation in Nagorno-Karabakh, the focus of two wars in the past three decades, with the new commander of Russian peacekeepers in the region.
The mountainous enclave is internationally recognised as part of Azerbaijan, but populated by about 120,000 ethnic Armenians.
Azeris identifying themselves as environmental protesters have since Dec. 12 partially blocked the Lachin corridor, the only highway and supply route that runs across Azeri territory which connects Armenia to Nagorno-Karabakh.
Azerbaijan went further last Sunday by setting up a checkpoint on the road, which Armenia called a major breach of a 2020 ceasefire deal. Baku said the move was necessary to stop the route being used to transfer fighters and weapons.
Despite years of attempted mediation between them, the two countries have yet to reach a peace agreement that would settle outstanding issues such as the demarcation of borders and return of prisoners.
French Foreign Minister Catherine Colonna has visited Azerbaijan and Armenia in the past two days, urging both sides to undertake confidence-building moves and resume talks on a settlement.
(Reporting by Reuters; Editing by Andrew Osborn)
MORE FROM THE
OAF NATION NEWSROOM