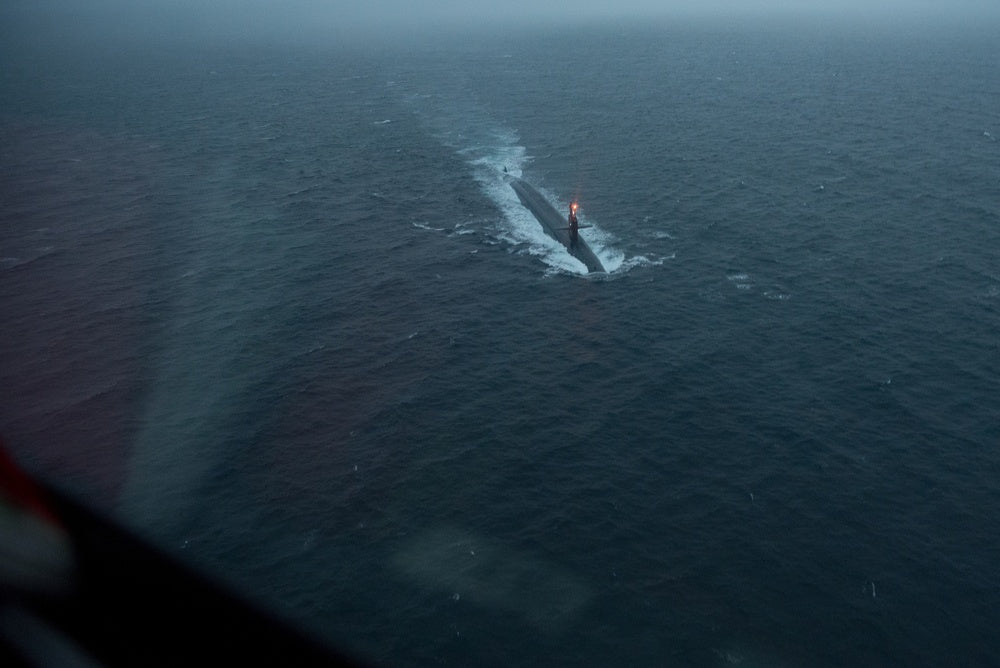 US to send nuclear-armed submarine to SKorea in first since 1981
Representational photo: The USS Kentucky (SSBN 737) departs Broad Bay in Dutch Harbor, Alaska, after resupplying, Aug. 24, 2017. (U.S. Navy photo by Mass Communication Specialist 2nd Class Shaun Griffin via U.S. Defense Visual Information Distribution Service)
By Josh Smith and Ju-min Park
SEOUL (Reuters) - For the first time since the 1980s a U.S. Navy nuclear-armed ballistic missile submarine (SSBN) will visit South Korea to help demonstrate Washington's resolve to protect the country from a North Korean attack.
The visit was announced in a joint declaration during a summit between South Korean President Yoon Suk Yeol and U.S. President Joe Biden in Washington on Wednesday.
Because U.S. SSBNs rely on secrecy and stealth to ensure their survival and preserve their ability to launch nuclear missiles during a war, they rarely make public stops in foreign ports.
"That could be a huge pressure on North Korea, because usually they don't share where those submarines are," said Moon Keun-sik, a retired South Korean submarine captain and squadron leader.
The United States has pledged to deploy more so-called "strategic assets" such as aircraft carriers, submarines, and long-range bombers to South Korea to deter North Korea, which has developed increasingly powerful missiles that can hit targets from South Korea to the mainland United States.
The submarine visit is also seen as a way to reassure South Korea and quell talk in Seoul of developing homegrown nuclear weapons.
"If a U.S. SSBN visits and docks in South Korea, that is very unusual and symbolic ... the U.S. wants to show it is going for stronger deterrence in a visible way and to calm South Koreans' concerns," Choi Il, another retired South Korean submarine captain, told Reuters.
Pyongyang has condemned the recent deployment of U.S. aircraft carriers and joint South Korea-U.S. military drills as proof of the allies' hostile intent.
The U.S. Navy fields 14 SSBNs, often referred to as "boomers". Each of the Ohio-class submarines carry 20 Trident II D5 missiles, each of which can deliver up to eight nuclear warheads to targets as far as 12,000 kilometres (7,500 miles) away.
There were regular SSBN visits to South Korea in the 1970s, during another period when South Korea was debating the strength of U.S. commitments and the need for its own nuclear arsenal, according a report by the Federation of American Scientists.
"For a few years the boomers arrived at a steady rate, almost every month, sometimes 2-3 visits per month," wrote the report's author, Hans Kristensen. "Then, in 1981, the visits stopped and the boomers haven't been back since."
No further details were provided about the South Korea visit but it the declaration said it would be evidence of the United States' commitment to "further enhance the regular visibility of strategic assets to the Korean Peninsula".
A senior U.S. official, speaking on condition of anonymity, told reporters that the visit would be part of more frequent trips to the peninsula by strategic assets, but that there is "no vision for any regular stationing or basing of those assets and certainly not nuclear weapons" in South Korea.
(Reporting by Josh Smith and Ju-min Park; Writing by Josh Smith. Editing by Gerry Doyle)
MORE FROM THE
OAF NATION NEWSROOM