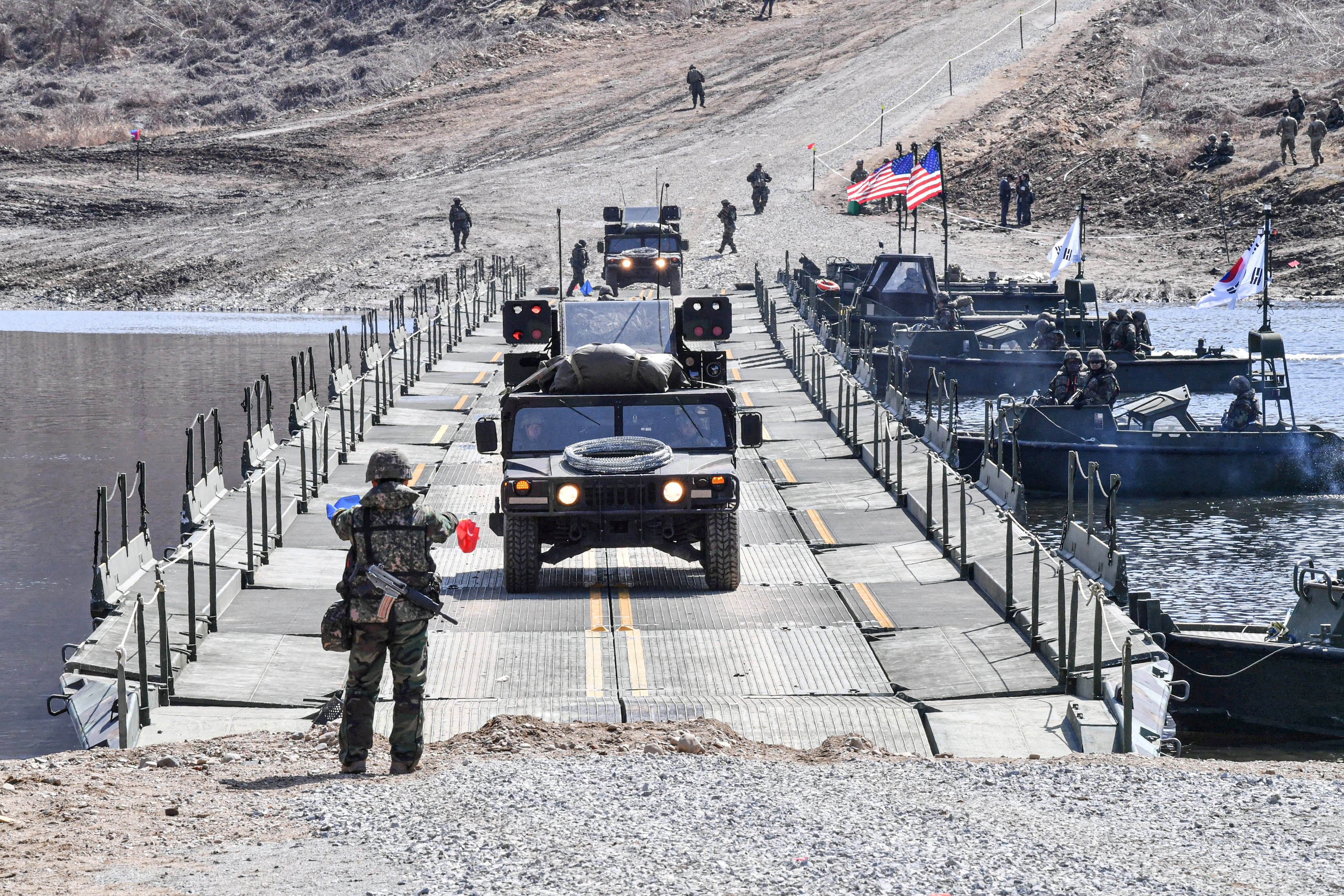 Calls for South Korean nuclear arsenal unlikely to fade despite US deal, analysts say
FILE PHOTO: South Korean and U.S. soldiers take part in their joint river-crossing drill which is a part of the Freedom Shield joint military exercise, near the demilitarized zone separating the two Koreas, in Yeoncheon, South Korea, March 13, 2023. The Defence Ministry/Handout via REUTERS
SEOUL (Reuters) - The United States granted South Korea a larger role in planning for a potential nuclear war with North Korea, but that will probably not ease doubts over U.S. defence commitments that have fuelled calls for a South Korean nuclear arsenal, experts said.
Under a new "Washington Declaration" announced Wednesday, the United States will give Seoul detailed insights into, and a voice in, U.S. planning to deter and respond to a nuclear incident in the region. Seoul renewed a pledge not to pursue a nuclear bomb of its own.
The document is in many ways a response to growing doubts in South Korea that the United States would risk its own cities - in range of North Korea's latest ballistic missiles - to defend its ally, as well as a sense that the South is a growing global power that should be among the nuclear-armed states.
Some in South Korea's government also worry that if there is a new administration in the United States, Washington might provide less defence support.
As a candidate, President Yoon Suk Yeol called for the return of U.S. tactical nuclear weapons to South Korea, and in January he suggested that there may come a time when the country needs to develop its own arsenal.
He has since walked back those comments, and one former senior U.S. official told Reuters that the Yoon administration's nuclear talk was most likely an effort to secure the type of planning and coordination role outlined in Wednesday's declaration.
"South Korea joins a small club of countries who used the mere threat of acquiring atomic weapons to wrest concessions from the United States," Tristan Volpe of the Naval Postgraduate School in California said in a post on Twitter.
"The concern I have is that leaders often find it difficult to put the nuclear genie back in the bottle," he added. "Domestic politics could distort the incentives South Korean leaders face when it comes to limiting their nuclear options over the long run."
Yoon is far from alone among senior South Korean officials in raising the idea, and polls show a majority of the public would support having nuclear weapons. In an interview with Reuters in March, Seoul Mayor Oh Se-hoon said South Korea should build such weapons to bolster its defences against North Korea, even at the risk of international repercussions.
"The Washington Declaration should snuff out the loose nuke talk by the Yoon administration," said Mason Richey, a professor at Hankuk University of Foreign Studies in Seoul. "But this is likely to be a hiatus on the debate, rather than a definitive end."
'NUCLEAR FOR NUCLEAR'
Sue Mi Terry of the Wilson Center think tank said how the North Korean threat evolves will in large part determine whether the declaration will assuage South Korean concerns.
"A seventh North Korean nuclear test will, no doubt, increase alarm in South Korea and support for its own nuclear arsenal - or at least for steps such as stationing U.S. tactical nuclear weapons in South Korea or reaching a 'nuclear sharing' agreement that notably were not part of the Washington Declaration," she said.
Nuclear expert Siegfried Hecker warned in January there could be disastrous downsides to Seoul acquiring its own nuclear weapons. The North could build an even bigger arsenal in response, and breaking non-proliferation agreements would likely trigger devastating sanctions on South Korea's economy and threaten worldwide non-proliferation efforts.
Fears over U.S. commitments are not new. The United States once stationed hundreds of tactical nuclear weapons in South Korea and has made other agreements to reassure Seoul.
But concerns grew when former President Donald Trump questioned the value of the South Korean alliance and threatened to remove the roughly 28,500 U.S. troops stationed there if Seoul didn't pay billions of dollars more for their expenses.
When President Joe Biden took office, he quickly resolved that dispute and moved to reassure Seoul. His decision to withdraw American troops from Afghanistan, however, drew new arguments from South Korean leaders who said it demonstrated the need for reducing reliance on Washington.
The prospect that Trump or someone who shares his views could return to the White House in the 2024 elections will also stoke uncertainty, experts said.
Choi Il, a retired South Korean submarine captain, told Reuters that South Korea's fundamental answer to the growing North Korean threat remains unchanged.
"An eye for an eye, nuclear for nuclear," he said. "If you strike us with nuclear weapons, then we will strike back with our own."
(Reporting by Josh Smith; Additional reporting by Ju-Min Park in Seoul and David Brunnstrom in Washington; Editing by Gerry Doyle)
MORE FROM THE
OAF NATION NEWSROOM