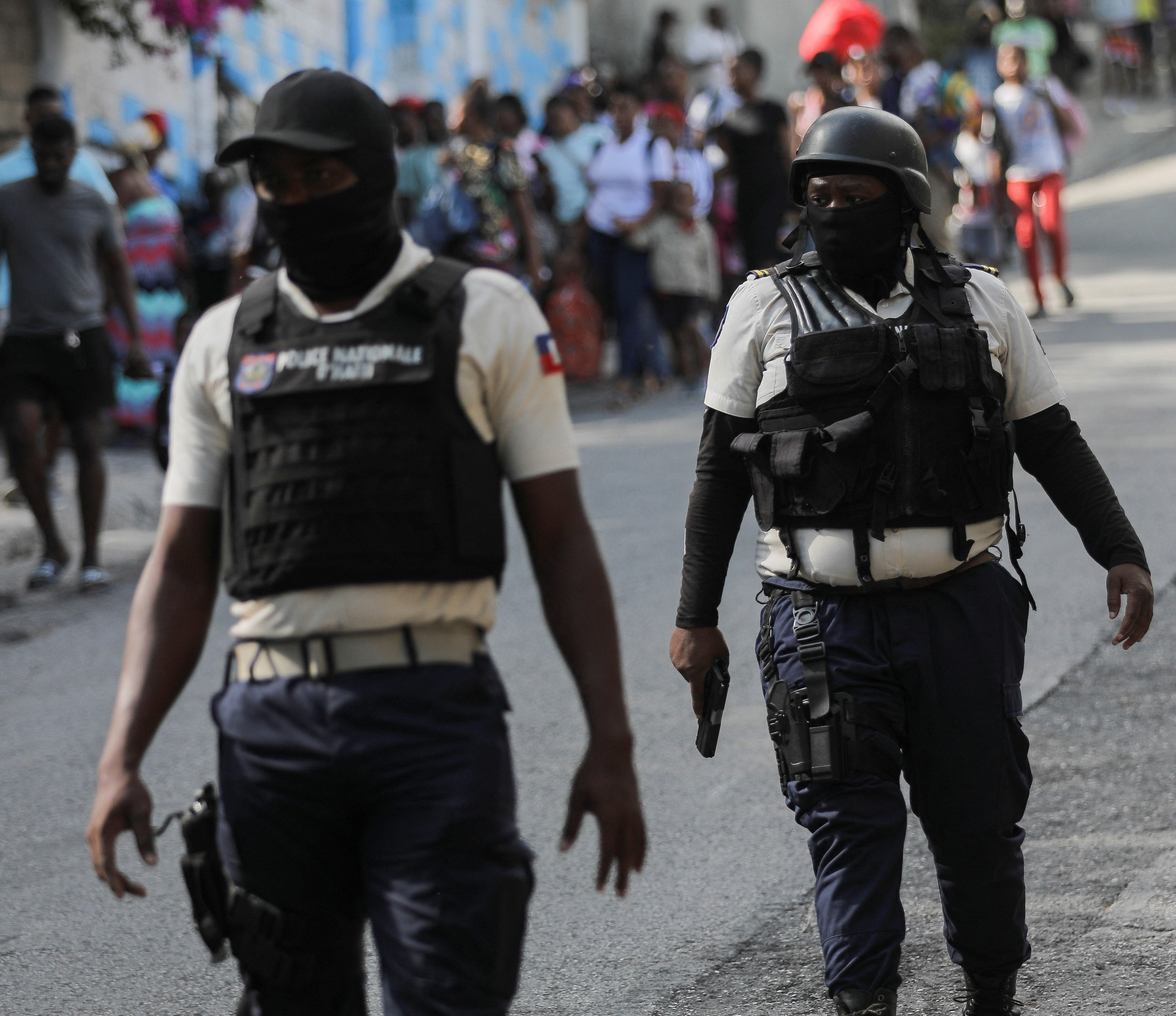 Haitian residents lynch suspected gang members
Police officers walk near people who carry their belongings while fleeing their homes and neighborhood due to clashes between gangs, in Port-au-Prince, Haiti April 24, 2023. REUTERS/Ralph Tedy Erol
PORT-AU-PRINCE (Reuters) - Haitian police said on Monday that at least 10 suspected gang members had been lynched and their bodies burned by residents of Port-au-Prince.
Haitian police spokesperson Gary Desrosiers said the group of armed bandits had been traveling in a vehicle in the capital and that police had intended to arrest them.
Separately, he said notorious crime boss Carlo Petithomme was dead, without giving any details. Petithomme went by the alias Ti Makak and led a gang of the same name.
The lynchings followed days of confrontations between gang members and security agents.
Photos by Reuters and video circulating on social media show several bodies piled in the road, with smoking tires and other objects on top of them. People surround them, shouting angrily. One person can be seen beating the lifeless bodies with a blunt object.
Gangs in Haiti have grown in strength since the 2021 assassination of President Jovenel Moise, with residents caught in the middle as large portions of the capital and much of the countryside have become lawless.
The security situation has deteriorated further in recent months, with routine gun fights taking place between police officers and the gangs. Bloody turf battles have left hundreds dead and thousands displaced.
Desrosiers said the anger of the population was understandable "but the collaboration we are seeking must be done without violence."
Criminal groups control about 80% of the Port-au-Prince metropolitan area, where some 200 gangs operate with impunity, according to estimates.
Haiti's government and top United Nations officials have called for an international force to support the Haitian police in their struggle against the gangs.
(Reporting by Harold Isaac; Writing by Valentine Hilaire; Editing by Anthony Esposito and Rosalba O'Brien)
MORE FROM THE
OAF NATION NEWSROOM