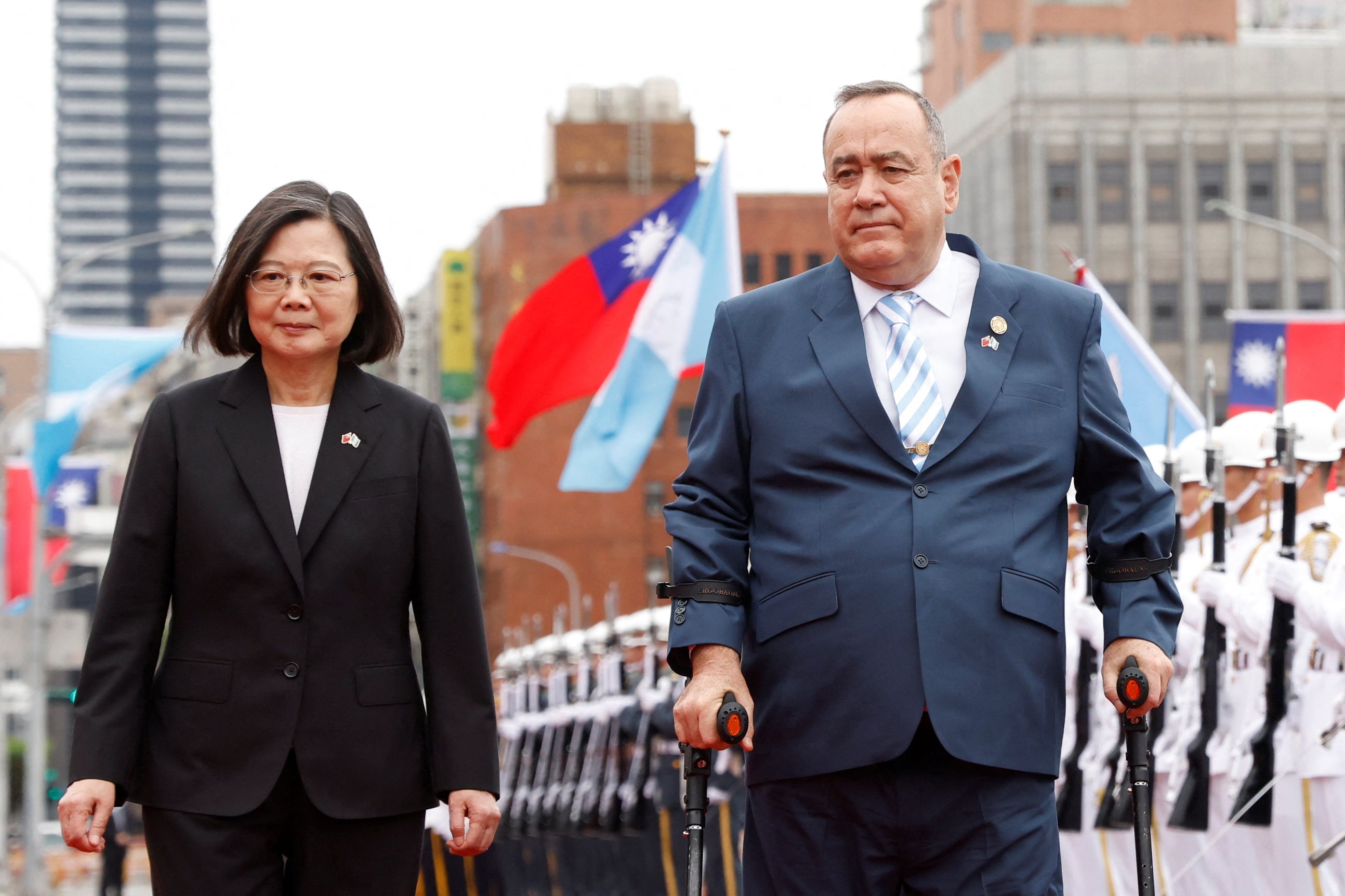 Guatemala president pledges strong support for "Republic of Taiwan"
Taiwan's President Tsai Ing-wen walks next to Guatemala's President Alejandro Giammattei during his welcome ceremony in front of the Presidential building in Taipei, Taiwan April 25, 2023. REUTERS/Carlos Garcia Rawlins
TAIPEI (Reuters) -Guatemalan President Alejandro Giammattei pledged his unconditional support on Tuesday for the "Republic of Taiwan" on a trip that comes as China steps up pressure on the handful of countries that still maintain formal ties with the island.
Guatemala is one of only 13 countries with official diplomatic ties with China-claimed Taiwan. Honduras abandoned Taipei for Beijing last month after asking for almost $2.5 billion in aid.
Speaking at a welcoming ceremony outside Taiwan's presidential office, Giammattei said Guatemala and Taiwan were "brotherly countries" and important allies.
Speaking in Spanish, he referred twice to the "Republic of Taiwan", rather than its official name, the Republic of China, generally stylised these days by the government as the Republic of China, Taiwan.
"I want everyone to trust that Guatemala will continue to be a solid diplomatic ally to the Republic of Taiwan and will continue to deepen cooperation in all areas," he said, pledging "absolute support".
Giammattei, standing next to Taiwan President Tsai Ing-wen, ended his speech with a rousing "long live free Taiwan", receiving a broad smile from Tsai who thanked him in English.
Speaking later at Taiwan's parliament, Giammattei continued to refer to the "Republic of Taiwan", and won a standing ovation from lawmakers with a further strong message of support, ending that speech with: "Long live Taiwan: free, sovereign and independent."
Guatemala's relations with the Republic of China go back nine decades, before the government fled to Taiwan in 1949 after losing a civil war with Mao Zedong's communists who set up the People's Republic of China.
Any suggestion that Taiwan is an independent country and separate from China infuriates Beijing, which has never renounced the use of force to bring the island under its control.
China, which views Taiwan as its own territory with no right to the trappings of a state, reiterated its condemnation of Giammattei's trip.
"We advise the Giammattei government not to take the side of the evildoer," Foreign Ministry spokesperson Mao Ning said in Beijing.
Giammattei is paying a return visit to Taiwan after Tsai visited Guatemala less than a month ago.
(Reporting by Ben Blanchard; Additional reporting by Laurie Chen in Beijing; Editing by Raju Gopalakrishnan and Nick Macfie)
MORE FROM THE
OAF NATION NEWSROOM