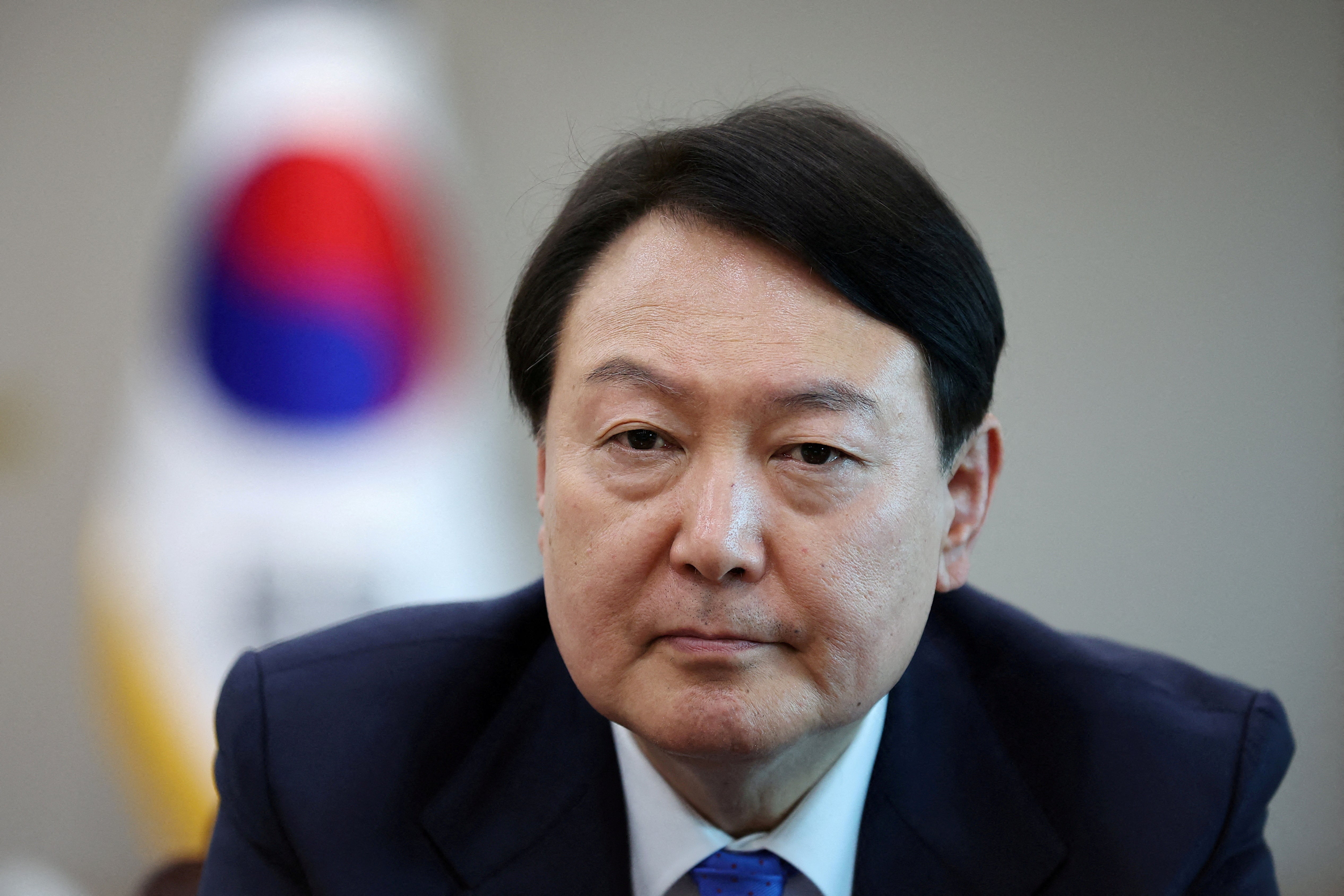 SKorea's Yoon to meet Biden as North unveils new missiles
FILE PHOTO: South Korean President Yoon Suk Yeol attends an interview with Reuters at the Presidential Office in Seoul, South Korea, April 18, 2023. REUTERS/Kim Hong-Ji/File Photo/File Photo
SEOUL (Reuters) -South Korean President Yoon Suk Yeol set off on Monday for the United States and a summit with President Joe Biden at a time of rare questioning in South Korea of an alliance that has guaranteed its security for decades.
Yoon's April 24-29 trip is the first state visit to the U.S. by a South Korean leader in 12 years and will mark the 70th anniversary of a partnership that has helped anchor U.S. strategy in Asia and provided a foundation for South Korea's emergence as an economic powerhouse.
But as North Korea races ahead with the development of nuclear weapons and missiles to carry them, there are growing questions in South Korea about the relying on "extended deterrence", in essence the American nuclear umbrella, and calls, even from some senior members of Yoon's party, for South Korea to develop its own nuclear weapons.
A recent poll by the Asan Institute for Policy Studies showed that more than 54% of respondents believed the U.S. would not risk its safety to protect its Asian ally.
More than 64% supported South Korea developing its own nuclear weapons, with about 33% opposed.
Yoon has been pushing to boost South Korea's say in operating the U.S. extended deterrence but exactly what that might entail has not been spelt out.
Yoon's deputy national security adviser said both sides had been working on measures to operate the extended deterrence in a more concrete manner, hopefully with progress to be a revealed in a joint statement after the summit.
"What I can tell you now is that people's interest in and expectations for extended deterrence have been great, and there are several things that have been carried out over the past year in terms of information sharing, planning and execution," the adviser, Kim Tae-hyo, told reporters.
"We need to take steps to organise these things so that it can be easily understood to anyone in one big picture, how this is implemented and developed."
A senior U.S. official said on Friday that Biden, during the summit with Yoon, would pledge "substantial" steps to underscore U.S. commitments to deter a North Korean nuclear attack.
HELP FOR UKRAINE
Russia's invasion of Ukraine, which some in South Korea feel is distracting the United States from dangers in Asia, has also led to some rare friction between Seoul and Washington.
Leaked U.S. documents recently highlighted South Korean difficulties in dealing with pressure from its ally to help with the supply of military aid to Ukraine.
South Korea, a major producer of artillery shells, says it has not provided lethal weapons to Ukraine, citing its relations with Russia. It has limited its support to humanitarian aid.
South Korea tries to avoid antagonising Russia, due chiefly to business interests and Russian influence over North Korea.
Suggestions reported in media that the United States had been spying on South Korean deliberations about its support to Ukraine have raised hackles in South Korea, though both sides have played the down the issue.
Yoon, in an interview with Reuters last week, Yoon signalled for the first time a softening in his position on arming Ukraine, saying his government might not "insist only on humanitarian or financial support" if Ukraine comes under a large-scale attack on civilians or a "situation the international community cannot condone".
A South Korean official said the government's position against arms support for Ukraine "raised eyebrows" in some countries at a time when South Korean defence firms have won big deals in Europe, including a $5.8 billion contract to supply howitzers and tanks to Poland.
Another South Korean official said the government had been "treading a fine line" as it tried to maintain ties with Russia but Yoon's remarks could give South Korea greater flexibility.
Yoon is due to meet Biden for their summit on Wednesday. He will address the U.S. Congress on Thursday.
Yoon is bringing business leaders to boost partnerships on supply chains and high-tech areas including chips and batteries. He will also discuss space cooperation at NASA's Goddard Space Flight Center.
(Reporting by Hyonhee Shin; Additional reporting by Soo-hyang Choi; Editing by Robert Birsel)
MORE FROM THE
OAF NATION NEWSROOM