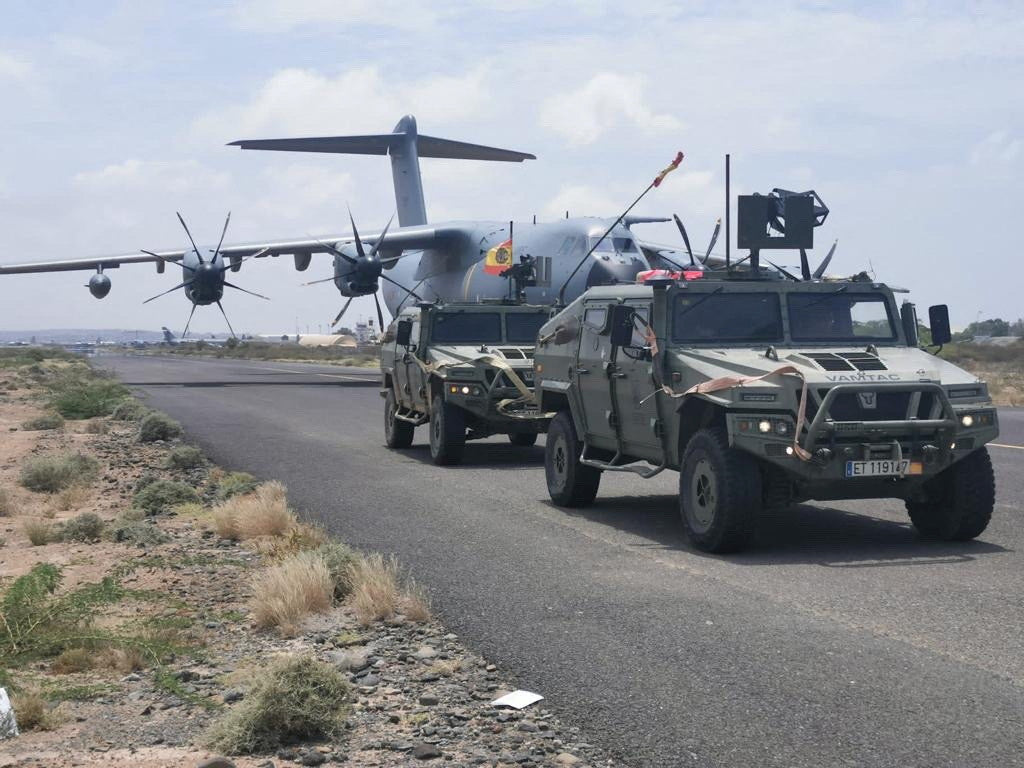 Sudan evacuations speed up during fighting lull
Spanish military plane and military vehicles are seen departing on tarmac as Spanish diplomatic personnel and citizens are evacuated, in Khartoum, Sudan, April 23, 2023. Spanish Defence Ministry Handout/Handout via REUTERS
KHARTOUM (Reuters) -Europe, China and Japan raced to extract their citizens from Khartoum on Monday and thousands more people took advantage of an apparent lull in fighting between the army and a paramilitary force over the past two days to escape Sudan.
The sudden eruption of violence between the military and the well-armed Rapid Support Forces (RSF) paramilitary group on April 15 triggered a humanitarian crisis and has killed 427 people, U.N. agencies said. Others have expressed fear for their lives as clashes spread through residential areas.
Nations including Gulf states and Russia were trying to get citizens out on Monday, and there was a growing exodus to Sudan's neighbours, including 10,000 people who fled to South Sudan despite chronic instability there.
Along with millions of Sudanese without access to basic services, foreign diplomats, aid workers, students and their families found themselves in a war zone last week. Internet connectivity was cut on Monday, website Netblocks reported.
Fighter jets have bombed the capital, the main airport has been at the centre of fighting and artillery barrages have made movement unsafe in and out of one of Africa's largest cities. Diplomats have been targeted in attacks, and at least five aid workers killed.
Despite sustained pressure from countries concerned by the conflict's wider repercussions as well as the safety of their nationals, the two sides have not abided by a temporary truce.
However fighting calmed enough over the weekend for the United States to get embassy staff out by military helicopter, triggering a rush of evacuations by other countries.
Families with children crowded into Spanish and French military transport planes, while a group of nuns were among the evacuees on an Italian aircraft, photographs showed. Some of the flights left from the Wadi Seyidna air base north of Khartoum, the army said.
At least two convoys involved in evacuations came under attack at the weekend, including one carrying Qatari embassy staff and another carrying French citizens, one of whom was injured.
France and Germany on Monday said they had evacuated around 700 people, without giving a breakdown of their nationalities. A German air force plane carrying evacuees landed in Berlin early on Monday.
Several countries sent military planes from Djibouti to fly people out from the capital, while other operations took people by convoy to Port Sudan on the Red Sea, which is about 800 km (500 miles) by road from Khartoum. From there some have boarded ships to Saudi Arabia.
Indonesia said so far more than 500 of its citizens had been evacuated to the port, and were awaiting transport to Jeddah, across the Red Sea.
China, Denmark, Lebanon, the Netherlands, Switzerland and Sweden also said they had got nationals out, while Japan said it was preparing to send an evacuation team from Djibouti.
A convoy of about 65 vehicles carrying some 700 international United Nations, NGO and embassy staff and their dependents drove from Khartoum to Port Sudan on Sunday as part of the evacuations, a diplomatic source said.
RISK OF WIDER CONFLICT
The army and RSF jointly staged a coup in 2021 but fell out during negotiations to integrate the two groups and form a civilian government four years after long-ruling autocrat Omar al-Bashir was toppled. 
Their rivalry has raised the risk of a wider conflict that could draw in outside powers: Sudan has seven direct neighbours and sits strategically between Gulf nations, Egypt and sub-Saharan Africa.
Beyond the capital, people are reported to have fled clashes in several areas including the western region of Darfur, made up of three states, as well as from Blue Nile State on the border with Ethiopia and South Sudan, and North Kordofan State southwest of Khartoum, according to a U.N. update on Monday.
The evacuation of international staff from Darfur, the war-torn western region where fighting has also escalated, is also under way, with some heading west to Chad and others to South Sudan, the source said.
Up to 20,000 people have already fled to Chad, U.N. agencies said last week. Officials in South Sudan's Renk County said on Monday they had received about 10,000 people since the crisis started.
Dau Aturjong, the army's commander in Renk, said three quarters of the arrivals are South Sudanese while the others are Sudanese, Eritrean, Kenyan, Ugandan and Somali.
"Yesterday alone we received 3,000 people, and many people are still on the way because of transport. We have no fuel to bring them in," said county commissioner Kak Padiet.
South Sudan won independence from Sudan in 2011, after a decades-long civil war. Since independence the new country has been beset by its own civil war, and refugees had previously spilled into its northern neighbour.
Hundreds of people, including residents of Turkey, Djibouti and other countries, have arrived in the Ethiopian town of Metema Yohannes near the Sudan border, mayor Habtie Addisu said.
The fighting has closed most hospitals and curtailed water and electricity supplies. The killing of aid workers, including three from the World Food Programme, has led the U.N. agency to pause its operations in the country, which prior to the conflict relied on humanitarian aid for about a third of its people.
(Reporting by Khalid Abdelaziz in Khartoum; Aidan Lewis in Cairo; Sabine Siebold and Martin Schlicht in Berlin and Simon Johnson in Stockholm; Writing by Frank Jack Daniel; Editing by Philippa Fletcher)
MORE FROM THE
OAF NATION NEWSROOM