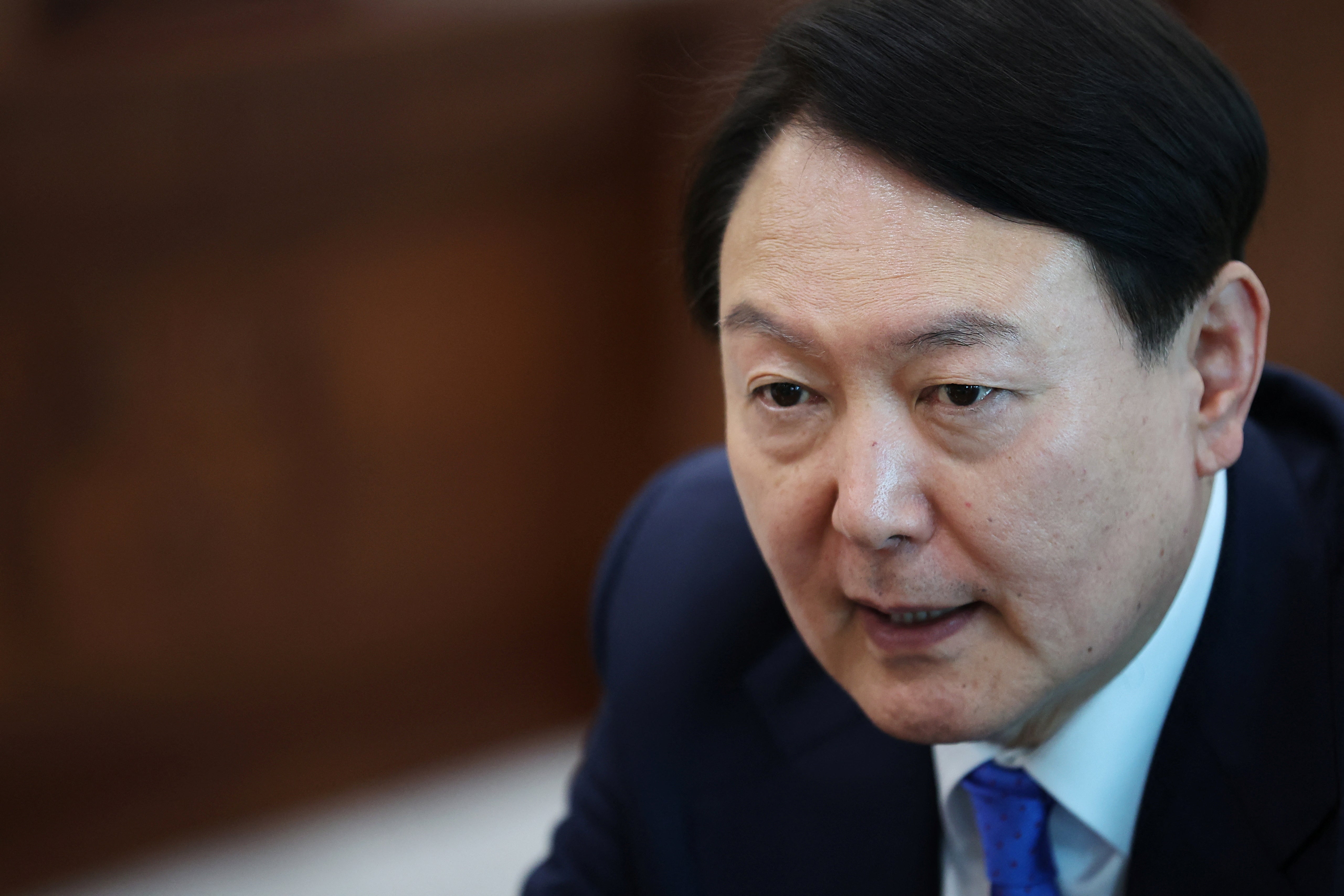 SKorea's Yoon opens door for possible military aid to Ukraine
President Yoon Suk Yeol said, signalling a shift in his stance against arming Ukraine for the first time.
In an interview with Reuters ahead of his state visit to the U.S. next week, Yoon said his government has been exploring how to help defend and rebuild Ukraine, just as South Korea received international assistance during the 1950-53 Korean War.
"If there is a situation the international community cannot condone, such as any large-scale attack on civilians, massacre or serious violation of the laws of war, it might be difficult for us to insist only on humanitarian or financial support," Yoon said.
It was the first time that Seoul suggested a willingness to provide weapons to Ukraine, more than a year after ruling out the possibility of lethal aid.
A key U.S. ally and major producer of artillery ammunition, South Korea has so far tried to avoid antagonising Russia due to its companies operating there and Moscow's influence over North Korea, despite mounting pressure from western countries for weapons supply.
"I believe there won't be limitations to the extent of the support to defend and restore a country that's been illegally invaded both under international and domestic law," Yoon said. "However, considering our relationship with the parties engaged in the war and developments in the battlefield, we will take the most appropriate measures."
In response, the Kremlin said supplying arms to Ukraine would make Seoul a participant in the conflict.
"Unfortunately, Seoul has taken a rather unfriendly position in this whole story," Kremlin spokesman Dmitry Peskov told reporters. "They will try to draw more and more countries directly into this conflict. But of course, the start of arms deliveries will obliquely mean a certain stage of involvement in this conflict."
Yoon is scheduled to visit Washington next week for a summit with U.S. President Joe Biden to mark the 70th anniversary of the two countries' alliance.
During the summit, Yoon said he will seek "tangible outcomes" on the allies' efforts to improve responses to evolving threats from North Korea, which has ramped up military tests, and launched its first solid-fuel intercontinental ballistic missile last week.
Seoul, for its part, will step up its surveillance, reconnaissance and intelligence analysis capability and develop "ultra-high-performance, high-power weapons" to fend off the North's threats, Yoon said.
"If a nuclear war breaks out between South and North Korea, this is probably not just a problem between the two sides, but the entire Northeast Asia would probably turn to ashes. That has to be stopped," he said.
When asked if the allies would envision an Asian version of NATO's nuclear planning group involving Japan, Yoon said they are focusing on bilateral measures to strengthen information-sharing, joint contingency planning and joint execution of the plans.
In February, South Korea and the U.S. staged table-top exercises simulating a North Korea nuclear attack as part of Seoul's efforts to play a bigger role in Washington's nuclear policy over the North.
"In terms of responding to a powerful nuclear attack, I think stronger measures than what NATO has should be prepared, Yoon said.
"I think there's no big problem if Japan is joining, but since there's been much progress between the U.S. and South Korea, it would be more efficient to create this system ourselves first."
'NO SUMMIT FOR SHOW'
Tension has flared in recent weeks, with the North threatening "more practical and offensive" action over South Korea-U.S. exercises and refusing to answer inter-Korean hotlines.
Yoon said he is open to peace talks but opposes any "surprise" summit with North Korean leader Kim Jong Un to "show off" to voters out of domestic political interests.
He criticised former governments' sudden, uninformed announcements of inter-Korean talks, which he said did little to build trust.
Yoon's predecessor, Moon Jae-in, staked his legacy on improving inter-Korean ties and helped arrange a historic meeting between Kim and then U.S. President Donald Trump in 2018.
Three summits Kim and Moon held in 2018 promised peace and reconciliation but relations have soured and the North conducted unprecedented numbers of weapons tests following a second failed summit between Kim and Trump.
"They used those talks ahead of elections, but ultimately inter-Korean relations were always back to square one," Yoon said.
Humanitarian aid could open the door for dialogue, and both sides could build on those discussions to move onto more sensitive topics including economy and military, he said.
Yoon's administration proposed COVID-19 relief last year and unveiled plans to provide economic aid in return for nuclear disarmament, but Pyongyang flatly rejected the offers.
"If previous talks had proceeded step by step ... before the leaders met, the inter-Korean relationship would have developed steadily, though at a snail's pace," Yoon said.
On Sino-U.S. rivalry, Yoon has trodden cautiously, with China being South Korea's largest trade partner, but he has been more vocal over tension in the Taiwan Strait.
Tensions over democratic Taiwan, which China claims as its own, have spiked as Beijing intensifies diplomatic and military pressure to get Taipei to accept Chinese sovereignty.
"After all, these tensions occurred because of the attempts to change the status quo by force, and we together with the international community absolutely oppose such a change," Yoon said.
"The Taiwan issue is not simply an issue between China and Taiwan but, like the issue of North Korea, it is a global issue."
(Reporting by Soyoung Kim, Ju-min Park and Hyonhee Shin; Additional reporting by Soo-hyang Choi; Writing by Hyonhee Shin; Editing by Christina Fincher and Peter Graff)
MORE FROM THE
OAF NATION NEWSROOM