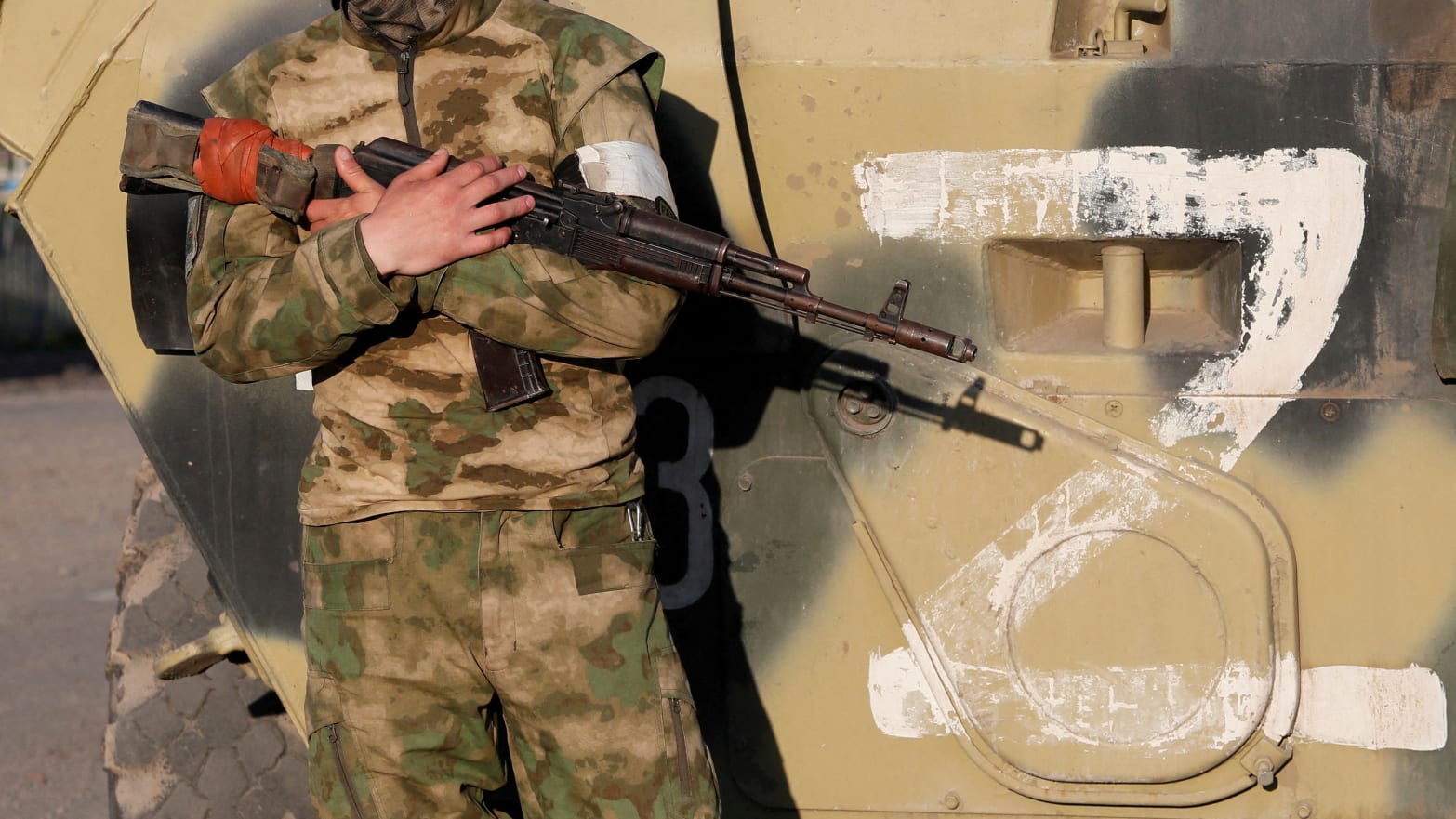 Kyiv compares Russia to Islamic State group after beheading video
KYIV (Reuters) -Ukraine compared Russia on Wednesday to Islamic State and called on the International Criminal Court to investigate after a video emerged online showing apparent Russian soldiers filming themselves beheading a Ukrainian captive with a knife.
Reuters could not immediately verify the authenticity or provenance of the video on social media, which showed a man in uniform beheading a man who wears the yellow arm band used by Ukrainian soldiers.
The Kremlin described the video as "awful" but said its authenticity needed to be checked. Moscow has denied in the past that its troops carry out atrocities during the conflict.
"There is something that no one in the world can ignore: how easily these beasts kill," Ukrainian President Volodymyr Zelenskiy said in a video message.
"There will be legal responsibility for everything. The defeat of terror is necessary."
Ukrainian Foreign Minister Dmitro Kuleba said on Twitter: "A horrific video of Russian troops decapitating a Ukrainian prisoner of war is circulating online.
"It's absurd that Russia, which is worse than ISIS, is presiding over the UNSC," he said, referring to the U.N. Security Council, where Russia took up the rotating presidency this month.
"Russian terrorists must be kicked out of Ukraine and the UN and be held accountable for their crimes."
Militants from Islamic State in Iraq and Syria were notorious for releasing videos of beheadings of captives when they controlled swathes of those countries from 2014-2017.
In Moscow, Kremlin spokesperson Dmitry Peskov told reporters at a briefing: "First of all, in the world of fakes that we live in, we need to check the veracity of this footage."
"Then it could be a pretext to check whether or not this is true, whether it happened, and if it did, where and by whom," Peskov said.
Ukraine's foreign ministry called on the International Criminal Court to "immediately investigate yet another atrocity of the Russian military".
Deputy Defence Minister Hanna Maliar told people online not to name the soldier publicly until his identity has been officially established by law enforcement. She urged people to stop sharing the video online.
"Remember, the enemy wants to frighten us. Wants to make us weaker," he said.
Ukraine's domestic security agency said it had started an investigation into a suspected war crime over the video.
"Yesterday, a video appeared on the Internet showing how the Russian occupiers are showing their beastly nature - cruelly torturing a Ukrainian prisoner and cutting off his head," the SBU agency wrote on Telegram.
In Geneva, the U.N. Human Rights Monitoring Mission in Ukraine said it was appalled by what it called "particularly gruesome" videos posted on social media.
As well as the purported execution, another video shows mutilated bodies of apparent Ukrainian prisoners of war, it said.
"Regrettably, this is not an isolated incident," it said in a statement. "The latest incidents must also be properly investigated and the perpetrators must be held accountable."
(Reporting by Max Hunder and Dan Peleschuk, Editing by Tom Balmforth, Peter Graff and Angus MacSwan)
MORE FROM THE
OAF NATION NEWSROOM