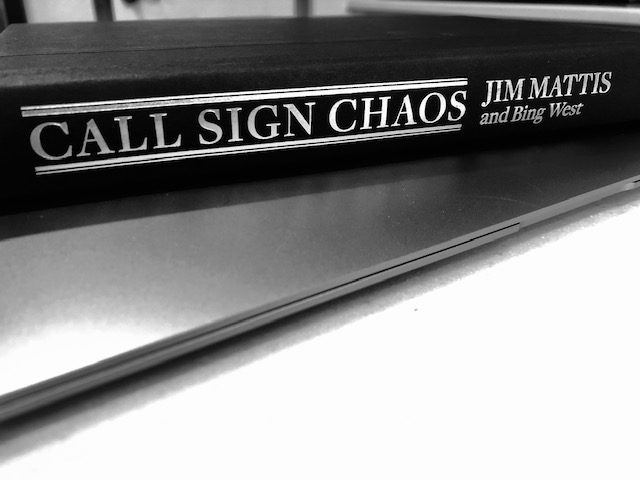 Book Review - Call Sign Chaos: Learning to Lead
Full disclosure: I couldn't wait for this book to come out. I bought the hard copy on pre-order, and on Audible the second I could. I've already highlighted quotes and thoughtful or useful passages. I hope you find this review enjoyable and informational but understand that there is some bias to this review. I served in the beloved First Marine Division while then-Major General Mattis was the commanding officer. Like many others, I respected his leadership, intelligence, his battlefield success, and clear adoration for enlisted service members long before his name would grace the national spotlight. That said, I was interested to read this book and see how he navigated through some of the most complicated battles in modern American history both overseas, and in Washington. The book is co-written by Mr. Bing West, who served as a Marine infantry officer in Vietnam. He has written some outstanding books on the global war on terror to include The March Up and No True Glory. I can say that he has an excellent writing style and does a great job in describing the details in such a way as to effectively pull the reader into the very environment he is describing. His writing style serves Call Sign Chaoswell.Call Sign Chaos is a book detailing the life, and career of Jim Mattis, retired USMC general, and former US Secretary of Defense. However, it is also an instructional book with a focus on leadership.  It is broken down into three main areas of focus. Direct leadership, executive leadership, and strategic leadership. Mattis ties his career into these three main categories. If I had to categorize this book, I would say it's 51% leadership focused - 49% autobiography. Don't be discouraged if you want the dirt or insight, there's plenty of that, though this book reinforces what I feel I know to be true. General Mattis is the consummate professional warrior-leader.
The book begins with Mattis growing up in Washington state in a small town. He was a scalawag and free spirit of sorts with pretty humble roots. He had a few brushes with the law, too, which any Marine Grunt can appreciate. He gradually found his way into the Marines where he found his home. He came in post-Vietnam and seemed to admire the NCOs that had been in the proverbial "shit" the years prior. He enjoyed the camaraderie, discipline, and most of all enjoyed the challenge and adventure that came with it. His journey took him all over the world, and along the way spent a significant amount of time reading. In fact, it's safe to say reading is Jim Mattis's passion. He's read thousands of books and his intelligence and knowledge are indicative of that. His love for reading came to serve him well in his decades of service. 
Jim Mattis is bold and outspoken. In fact, in almost every phase of his career he would get in some kind of trouble with the brass. He treated every job position as if it would be his last, which may be why he was so successful.. He didn't shy away from tough assignments; he embraced challenges. One example was his creation of "Task Force 58." For the younger readers, this was a Marine/Navy task force that helo inserted from the Arabian Sea into Kandahar months after 9/11 in order to project conventional ground forces in order to support the special operations war effort. It was the farthest helicopter insertion in US History. Another example was his leadership of 1st Marine Division during the invasion of Iraq in 2003. That type of mission was essentially tailor made for a mechanized Army division, however he put together a Marine task force that, as we know, broke the back of the Hussein regime in 3 weeks. Incidentally, the invasion was the farthest-reaching land battle in US Marine Corps history. Mattis went on to command forces in Iraq, and again in Afghanistan fighting the insurgencies.
It wasn't always glory for the general and Call Sign Chaos doesn't shy away from that. We get an honest look at his many skeptics and personal challenges. Most of those challenges came in his later years while working at the Pentagon both as a strategic leader in the Obama administration, and as SECDEF in the Trump administration.
One thing Call Sign Chaos does not do is bash the sitting president. True to form, Jim Mattis has good and bad things to say about all the presidents, while maintaining a high level of respect for the office, and the people that have held the job. I feel like he could have said plenty about this president especially, but he doesn't. He simply re-states his resignation letter which, if you recall, discusses his aversion to breaking apart alliances with important regional allies. This self control in the face of bad decisions too, is a hallmark of Jim Mattis;believe it or not, he disagreed with many of the operations he participated in but always put his personal feelings aside and drove on with the mission. There is a lesson there for all of us.  All of that being said, I do find it ironic that I write this review a few days after the President withdrew US SOF from Syria, which then devolved into a shit show, which Mattis predicted.
The book is highly quotable with Mattisisms; I feel the book is worth buying for that alone. In my own life I am in several leadership positions and I can say this is a must read for anyone that is looking for a great read and wants to learn critical skills in each area of leadership. The back of the book has plenty of references, reading lists, government memorandums, and many other important documents. If you are a fan of history, an aspiring leader or just a fan I cannot recommend this book enough. I sometimes re-read books if there are good lessons to be learned. This is one I will read several times and reference often. 
Rating: ♠️♠️♠️♠️  buy now, finish tonight.
Written By Pauly B
10/21/19
MORE FROM THE
OAF NATION NEWSROOM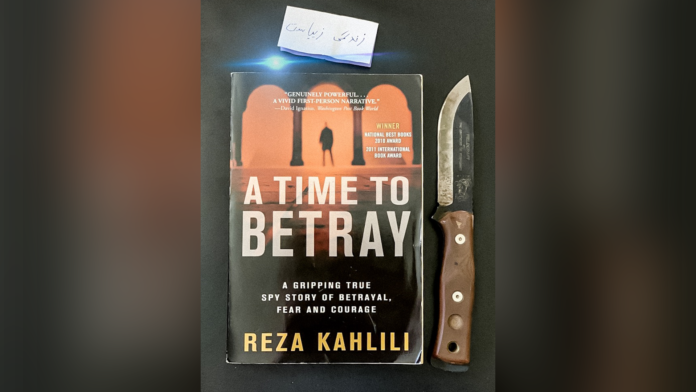 Book Review - A Time to Betray
The strained relationship between America and Iran would have been a surprise to citizens of both nations a short few decades ago. Our former premiere ally in the Middle East has been under scrutin...
Read more